Harry Potter 6 's Young Tom Riddle revealed. Trailer expected later today!
In anticipation of the teaser trailer for 'Harry Potter and the Half-Blood Prince' debuting later today, two pictures from the Potter film are now available online. In the latest instalment, Voldemort is tightening his grip on both the Muggle and wizarding worlds and Hogwarts is no longer the safe haven it once was. Harry suspects that dangers may even lie within the castle, but Dumbledore is more intent upon preparing him for the final battle that he knows is fast approaching. Together the pair work to find the key to unlock Voldemort's defenses, but tragedy lies ahead and Hogwarts may never be the same again…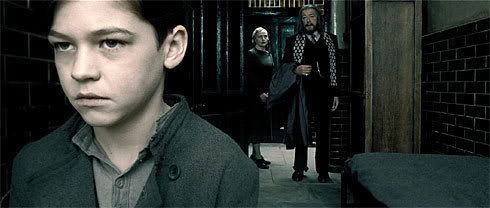 The first pic (above) gives us a sneak peek at the young Tom Riddle, who grows up to become Lord Voldemort. The young Tom Riddle is played by Hero Fiennes-Tiffin, the nephew of Ralph Fiennes. Director David Yates said about why they chose Hero to play the role:
"The fact that he's related to Ralph wasn't the primary reason for choosing him. It was an advantage that he looked very similar to Ralph. Of course that was useful. But primarily I went for Hero because of this wonderful haunted quality that seemed to bring Tom Riddle alive on-screen for us."
The second picture (below) features Michael Gambon as Dumbledore in a scene where he creates firestorm to fend off off reanimated and haunted dead people known as the Inferi. Director David Yates noted that the image looks biblical – comparing it to Charleton Heston when he parts the red sea.
The trailer is expected to debut online later today; check back later for further details on the latest Harry Potter trailer!

'Harry Potter and the Half-Blood Prince' is in Irish cinemas, November 22nd.