There is no arguing that U2 are the biggest band ever to come out of Ireland, the reason for their success is the constant reinvention of their sound, image and live shows. They are one of the few bands from the seventies/eighties that are still around today and thats thanks to their embracing of new ideas and forward thinking. Enter their new movie 'U2 3D'. It's the first ever live action movie filmed entirely in 3D.

Featuring state of the art digital 3D, multi-camera angles and real-time production the film reflects the band's long standing love affair of technology. Analysts believe that U2 3D has the potential to be as revolutionary for digital 3D as the 'The Jazz Singer' was for movies with sound.
Eight cinemas in Ireland will show the film in glorious 3D (see below for a full list). Francis Murray of IMC cinemas in Dun Laoghaire is one of the exhibitors preparing to unleash 3D to an excited customer base "We are very excited to be part of 'U2 3D' . . . since the success of 'Beowulf 3D', our cinema patrons have been eager for more and we feel 'U2 3D' will no doubt wow our audiences further and demonstrate IMC are at the forefront of the cinema experience"
Movies.ie caught up with Catherine Owens, the director of 'U2 3D' during her visit to Dublin for the Jameson Dublin International Film Festival to discuss working with Bono and the future of 3D cinema.
Q: Would you recommend 'U2 3D' to people that aren't major fans of the band?
A: I think I have a fairly good idea of what people like and don't like about U2 so its very interesting for me to hear from people who U2 aren't really part of their world of music growing up or they have pre-conceived ideas and they have never seen them live so they can't imagine what a U2 show is going to be like. I always feel like if you were at the back of the field Slane, then this film is like being right at the front.
Q: 3D has been seen as dying out over recent years, where did the idea of making 'U23D' come from?
A: In a way, this being called 3D doesn't do the technology justice because people have such pre-conceived notions of the old 3D. The old 3D was film that was loaded up in three minute increments in cameras that couldn't be moved. With the digital technology they were able to basically re-invent 3D so that you could run your cameras for as long as you wanted to run them and you could have your cameras be hand held. The ability to lengthen the duration and make the cameras mobile made it possible for us to shoot in 3D. In a way when that technology got developed and was presented to us, as a guarantee that this could be done we thought "Ok, we'll give it a go".
Q: Why was the decision taken to put the film into cinemas?
A: There wasn't a kind of decision like that. Like everything that U2 and myself do together in collaboration – the tour, or music videos – we kind of just have a hunch. 3D was offered to us by 3ality Digital Systems who developed the technology. U2 are very interested in technology, and they were very instrumental in developing the LED technology for large scale video viewing, so this was another technology, and our thing was "Is there something in there for us?", was there something in that technology – a little bit like the LED – that we could call ours and develop in our style? And because we were shooting live, and it wasn't CG and it wasn't motion capture or animation, we just thought "Ok, nobody's done this, let's just have a go". Worst that could happen was that it was going to be crap, and then the band would just say they were never going to put it out. So it was either going to be that or it was going to be something that we could really get our hands around.
Q: U2 are well known for their spectacular shows, how do you feel this translates into the film?
A: I think it's very complimentary. I think 3D is an extremely malleable medium. So we looked at it as something that would fairly represent the live show. I think what it's done is that it's added a layer. It's mysterious because you are not quite sure how it works; it's got a kind of mystery about it, which I think is very complimentary to what U2 do in performance. In performance you are giving away a story, you are not giving away the full story because you want the audience to bring their own part to that story. I think 3D does that quite well. I think it asks the audience to make the rest of the story.
Q: Why was the concert filmed in South America as opposed to an Irish show?
A: Actually, an Irish home audience after Croke Park would have been equally as good as our lovely South American audience. I think Bono felt like they have a real connection with South American audience, and because they hadn't played there in eight years, it would really be an event. Also, the way the tour was scheduled, it was the beginning of a new year, it was the beginning of the tour and it wouldn't be interrupting the rest of the year.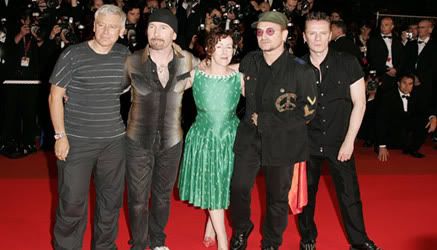 Q: Did the filming get in the way of the gig at all?
A: Funnily enough, one of the things that the band are very conscious of is they don't really want any filming to get in the way of the show. People have paid for tickets; they don't want people to be looking at a load of cameras. So that happily coincided with the fact that when we shot there were only eight 3D cameras in existence. Four belonged to the company that was developing the film, and four belonged to Jim Cameron. So we took his four cameras and our four cameras and divided those cameras up over shows. Mostly due to our budget constraints. So we had two cameras in Mexico, one camera in Chile, two cameras in Brazil and the full eight cameras in Argentina. That allowed us to film certain stages – we did medium shots for Mexico, we did only Larry in Chile, we did distance shots in Brazil, then in Argentina we did all the B stage shots. Then the band did 10 songs with no audience so we could get all our close up shots. The interesting result of that is that as you are watching the film you won't really be conscious of that, but as you watch it there are very few cameras in the shots in the whole film. Shooting over a period of shows made that possible.
Q: How much did 'U23D' cost to make?
A: Well it's hard to exactly tell how much it cost. We built a post production pipeline to make this film. We were working with a new company, so literally they built a 20,000 square foot space in Burbank in California and put in a team and brought in gear in order to make the 3D film. So it's hard to know where the film costs end, but if you were going to make a 3D film, and do what we did, you are looking at somewhere between $12 and $15 million. I have to say, for what we've done and the kind of special effects we've done, that was a pretty good number.
Q: You mentioned Jim Cameron gave you four cameras, what did he think of the whole project?
A: He was very supportive of the whole project. He's friends with Bono, so we had early conversations where he gave me fantastic advice, and then gave me advice throughout. I had an emergency call number which I used! He was shooting Avatar in New Zealand throughout the final phase of our film, so he hasn't seen anything yet.
Q: Had you directed a full length film before?
A: Nothing! Although I think 20 years of working with U2 qualifies me very well for anything full length! I picked a very particular editor and a very particular musical producer because I knew, having done nothing before in film, I needed to have some incredible anchors. Then Mark Pellington came and co-shot the live shoot with us in South America so his advice was really fantastic. Then when myself and my team went into the post production phase, basically we broke up the film into segments and because I am used to working with segments, and I am used to thinking as a person who builds things, that's exactly how we made the film. That's not really a bad way to make something, because that got us away from feeling overwhelmed by the whole thing!
Q: Do you think other bands will follow in U2's footsteps and make their own 3D films?
A: I think so. I don't see why not. One of the things I have said is I am not from a film making background, and you can make your own 3D film at home tomorrow if you wanted to. You just have to plan how to get your two cameras rigged up. Two digital cameras today will allow you to make your own 3D film. Online, there is a group of people who are helping each other to make 3D. What's so amazing about 3D is that anybody can do their vision in 3D. So there's really not going to be much of an excuse! I am expecting to see fabulous things coming out in 3D!
Q: Do you think this is the end for the live show?
A: No. This is like another cherry on top of the cream on top of the cake. No way are you ever going to bump the live show off the top of the ladder. I think this is going to allow performers – and I won't just say bands because I think this is going to have an effect in the world of opera and jazz and theatre – to perform in countries that they could never perform in. In China, India, Russia, places that are just impossible, due to cost effectiveness to play, you'll be able to see your favourite artist. For the maximum amount of $15 you will be able to see a how that cost $150. I think that's the way to go. I think it's going to be like having a limited edition DVD or CD. You've seen the show, and if a couple of months, or a year later you want to see it again, but from a different point of view, you can go to the film.
Q: Do you think a lot of film makers will start releasing their films in 3D?
A: I think so. There is a magnificent push going on in Hollywood to get films into 3D. I think probably 'Beowulf' has been the most significant. One of the reasons that the industry is excited about this film is that it is firmly in the world of adult viewing. Even though, of course anyone can go and see U2 3D, it takes it out of being CG animation and it takes it out of being marketed for children. I think people are really going to be pushing 3D. Also, it is an experience and I do think there is a trend going towards experiences in general. Like when you buy your CD now, you buy the book, you join the website group, everything now is more than just the one product.
Q: So you think people will have a problem staying in their seat during the film?
A: We're hoping they will! We are encouraging a lot of dancing in the aisles. It's very funny though, because when you go, you know everybody wants to move, but it's a little bit like being in church, they don't really feel that they should because you are supposed to be quiet in cinemas!
Q: Do you think U23D will be a revival for cinema going and for concert films?
A: As long as 3D can't be bootlegged, and I give it three years before somebody figures out how to do that, I think it's a theatre experience only. I think its going to reinvigorate the cinemas… Certainly for a while! But like anything, I think these things are kind of cyclical – people go to the new thing and then go back to the old thing, then they go to something new then they go back to the old.
Q: Speaking as a fan, whose gig would you like to see in 3D?
A: Who comes to mind straight away as a person who could bring a lot to this particular medium is Prince. I think Prince could do a spectacular 3D film. Maybe David Bowie in a different way… Retrospectively, Queen would be pretty phenomenal. You could probably do a complete cult film with Queen in 3D. Maybe Elton John if he had this parade of fabulous guests. I would like to see Nirvana in 3D – all that mosh pit stuff could have been pretty spectacular! The Clash in 3D could be interesting! It has to be a spectacle. You don't have to make it a bigger spectacle than it already is, but it has to start as one if you are going to do that kind of performance. On the other hand, I would like to see a Samuel Beckett piece in 3D, it would be really interesting in a totally different way.
Irish Cinemas Showing U2 3D include :
Movies@Dundrum,
Movies@Swords
IMC Dun Laoghaire
Cineworld Dublin
SGC Dungarvan
Gate Cork
Omniplex Cork
Omniplex Lisburn
Words : Brogen Hayes

'U2 3D' is at Irish cinemas from Friday 22nd of Feb
Check Movies.ie listings on Friday for viewing times!