Your chance to attend the ONLY Irish preview for free!
The release of a new STAR WARS movie is always something special, but what could be more special than seeing it a preview screening before it goes on Worldwide release?

Warner Bros. Pictures and Movies.ie are giving you and a friend the chance to attend the ONLY Irish preview of STAR WARS: THE CLONE WARS TM on Wednesday August 13th at 7pm in Dublin's City Centre.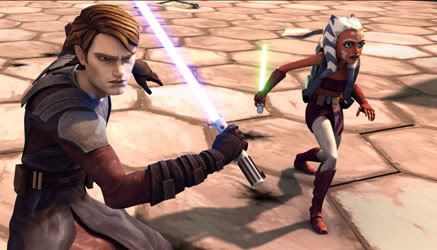 'TM & © Lucasfilm Ltd. All rights reserved. Used under authorisation'
MOVIE SYNOPSIS

As the Clone Wars sweep through the galaxy, the heroic Jedi Knights
struggle to maintain order and restore peace.More and more systems are
falling prey to the forces of the dark side as the Galactic Republic
slips further and further under the sway of the Separatists and their
never-ending droid army. Anakin Skywalker and his Padawan learner
Ahsoka Tano find themselves on a mission with far-reaching
consequences, one that brings them face-to-face with crime lord Jabba
the Hutt. But Count Dooku and his sinister agents, including the
nefarious Asajj Ventress, will stop at nothing to ensure that Anakin
and Ahsoka fail at their quest. Meanwhile, on the front lines of the
Clone Wars, Obi-Wan Kenobi and Master Yoda lead the massive clone army
in a valiant effort to resist the forces of the dark side.
HOW DO YOU ENTER THIS COMPETITION?
Simply answer the following question
Q: Who played the role of Count Dooku in the STAR WARS movies?
Don't forget to include your Movies.ie username
and your postal address so we can post you tickets!
Send your answer and details to Screenings@Movies.ie

STAR WARS: THE CLONE WARS will open in Irish cinemas everywhere on August 15th
Cert = PG
View the trailer, below, Just press play!