Be the first to see the fantastic BOLT in 3D this weekend
We have an extra special treat for you on Movies.ie today, we have 100 tickets to the premiere of BOLT up for grabs. It's our favourite 3D animation to date and you can be the first to see it at the Premiere this Sunday.
The premiere screening will take place on Feb 1st in Movies @ Dundrum at 1pm.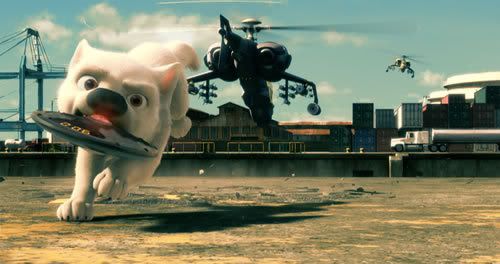 MOVIE SYNOPSIS
For super-dog BOLT (voice of JOHN TRAVOLTA), every day is filled
with adventure, danger and intrigue – at least until the cameras stop
rolling.
When the star of a hit TV show is accidentally shipped
from his Hollywood soundstage to New York City, he begins his biggest
adventure yet – a cross-country journey through the real world. Armed
only with the delusions that all his amazing feats and powers are real,
and with the help of two unlikely traveling companions: a jaded,
abandoned housecat named Mittens (voice of SUSIE ESSMAN) and a
TV-obsessed hamster in a plastic ball named Rhino, Bolt discovers he
doesn't need superpowers to be a hero.
BOLT (3D Release) is at Irish Cinemas From Feb 6th 2009
The 2D release will open in Irish cinemas on Feb 13th

Cert: GEN Running Time: 96 mins

For More Info visit: http://www.Boltmovie.ie

HOW TO WIN TICKETS
To win a pair of tickets to this premiere screening for you and a friend just answer the following question.
Q: Who provides the voice of BOLT? (clue – the answer is in the synopsis above)

Submit your answer by clicking here.
Don't forget to include your full name and contact details.

NOTE : We will email winners this Friday.
Please check the email address that you used when entering the competition.