Win a copy of Garth Jennings' Son of Rambow – on DVD from August 11th.
'Hitchhikers Guide to the Galaxy' helmer Garth Jennings returns to the director's chair with the hilarious and heart-warming coming-of-age tale: 'Son of Rambow'.
To celebrate the release of 'Son of Rambow' on DVD, Movies.ie has copies of the DVD up for grabs.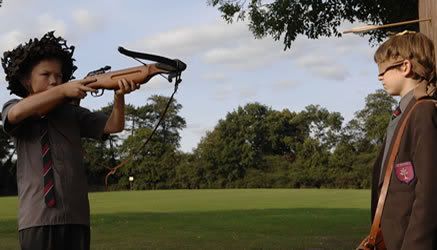 To try your luck, view the above film still and leave a caption in the comment area below.
The best captions will win a copy of the DVD, so get posting!
(You'll need to be logged in to post)
Official Synopsis: It all
begins in 1980s Britain, when young Will Proudfoot, raised in isolation
among The Brethren, a puritanical religious sect in which music and TV
are strictly forbidden, encounters something beyond his wildest
fantasies: a pirated copy of "Rambo: First Blood." His virgin viewing
of the iconic thriller blows his mind–and rapidly expanding
imagination–wide open. Now, Will sets out to join forces with the
seemingly diabolical school bully, Lee Carter, to make their own action
epic, devising wildly creative, on-the-fly stunts, not to mention
equally elaborate schemes for creating a movie of total commitment and
non-stop thrills while hiding out from The Brethren. But when school
popularity finally descends on Will and Lee in the form of the
super-cool French exchange student, Didier Revol, their remarkable new
friendship and precious film are pushed, quite literally, to the
breaking point.
'Son of Rambow' is on DVD from August 11th.