Get your hands on exclusive Max Payne watches and usb memory sticks!
Tipped as one of the hottest video game adaptations ever, Max Payne is now in Irish cinemas.
Mark Wahlberg stars as Max Payne – the maverick cop determined to track down those responsible for the brutal murders of his family and partner. Hell-bent on revenge, his obsessive investigation takes him on a nightmare journey into a dark underworld. As the mystery deepens, Max is forced to battle enemies beyond the natural world and face an unthinkable betrayal.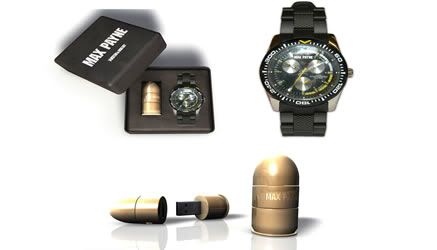 To celebrate the release, Movies.ie has sets of merchandise up for grabs. Each set contains a Max Payne Bullet-shaped USB Memory stick and a stylish Watch (pictured above).
To be in with a chance of winning one of these exclusive sets, just check out the film still below and leave a witty caption in our comment section below.

The best captions will win one of these exclusive Max Payne prize sets, so get posting! (You'll need to be logged in to post)
Max Payne is in Irish cinemas everywhere now.