Win a copy of the Abba inspired sensation on DVD!
Having taken cinemas by singing-storm, the Abba inspired musical "Mamma Mia!" is now out on DVD with an all star cast.
In "Mamma Mia!" – we follow the story of Sophie (Amanda Seyfried) a young woman living on a picturesque Greek island with her mother, Donna (Streep.) Together, Donna and Sophie run a ramshackle island inn, and they are in the midst of preparing for Sophie's wedding. As the wedding approaches, Sophie becomes troubled by the fact that she has never known her father. She was the result of one of her mother's summer flings, and her mother has never revealed her father's identity. When Sophie stumbles upon her mother's diary, she learns that there are three possible men who could be her dad. Without telling her mother, she invites all three to her wedding. When Harry (Colin Firth), Sam (Brosnan), and Bill (Stellan Skarsgard) all arrive at the same time, Donna is of course shocked and overwhelmed by seeing her old lovers again after such a long time. She turns to her two best friends, Tanya (Christine Baranaki) and Rosie (Julia Walters), for their support, and vows to just get through the wedding and weekend. Meanwhile, Sophie spends time with each man, determined to learn the truth…

To celebrate the release of this all-singing all-dancing musical – Movies.ie has five copies of the DVD up for grabs.
To win, just check out the film still below and leave a witty caption in our comment section below.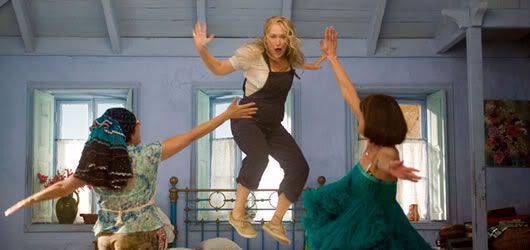 The best captions will win a copy of the DVD, so get posting! (You'll need to be logged in to post)
"Mamma Mia" is out now on DVD.