Win a copy of Robert Downey Jrs explosive superhero flick Iron Man – out this weekend on DVD and Blu-Ray.
Delivering non-stop action and excitement from a Super Hero who boasts not only unique powers, but also irresistible charm, penetrating intelligence and a wry wit, the worldwide box office sensation IRON MAN soars onto DVD and Blu-ray on October 24th.
Kicking off the fourth quarter with spectacular Ultimate Edition two-disc sets on both DVD and Blu-ray, as well as in a single-disc DVD, IRON MAN thrilled both critics and audiences around the world with its captivating story and stunning visual effects. Called "a true heavy metal hero", and "a movie to savour", the film features an all-star cast including Academy Award nominees Robert Downey Jr. (Zodiac, Chaplin), Jeff Bridges (The Contender) and Terrence Howard (Hustle & Flow) and Oscar® winner Gwyneth Paltrow (Shakespeare In Love).
A hit at the Irish box office, IRON MAN lifts off with high-speed, high-flying action when jet-setting industrialist Tony Stark survives an unexpected attack in enemy territory and escapes by building a high-tech robotic suit of armour. When he uncovers a nefarious plot with global implications, he dons his powerful armour and vows to protect the world as Iron Man. Straight from the pages of the legendary comic book, IRON MAN is a hero who is built – not born – to be unlike any other.
To celebrate the release of Iron Man on DVD, we have copies up for grabs.
To win, just check out the film still below and leave a witty caption in our comment section below.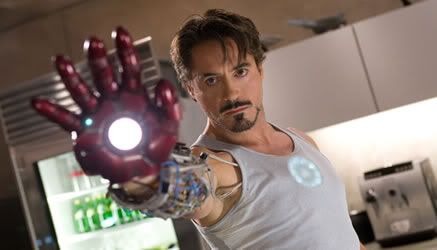 The best captions will win a copy of the DVD, so get posting! (You'll need to be logged in to post)
Iron Man hits Irish stores, October 24th.