Win a copy of Judd Apatow's hilarious comedy 'Forgetting Sarah Marshall' -out now on DVD.
Knocked Up's Judd Apatow and Jason Segel reteam for this hilarious comedy about heartbreak. Peter Bretter (Segel) has spent six years idolizing his girlfriend, television star Sarah Marshall. But his world is rocked when she dumps him and Peter finds himself alone. After an unsuccessful bout of womanizing and an on-the-job nervous breakdown, he sees that not having Sarah may just ruin his life. To clear his head, Peter takes an impulsive trip to Oahu, where he is confronted by his worst nightmare: his ex and her tragically hip new British-rocker boyfriend, Aldous, are sharing his hotel. But, as he torments himself with the reality of Sarah's new life, he finds relief in a flirtation with Rachel, a beautiful resort employee whose laid-back approach tempts him to rejoin the world. He also finds relief in several hundred embarrassing, fruity cocktails…
Wryly funny, smartly written and with hilarious performances from all, 'Sarah Marshall' is one film you won't want to forget, and here's your chance to win a copy of the film on DVD.

To try your luck, view the film still and leave a caption in the comment area below.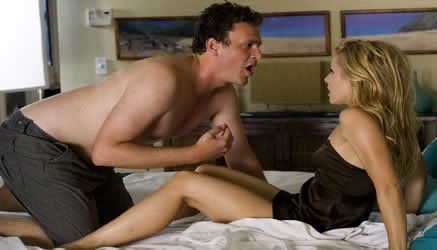 The best captions will win a copy of the DVD, so get posting! (You'll need to be logged in to post)
'Forgetting Sarah Marshall' is out now on DVD and Blu-ray.