"Hot Tub Time Machine" follows a group of best friends who've become bored with their adult lives: Adam has been dumped by his girlfriend; Lou is a party guy who can't find the party; Nick's wife controls his every move; and video game-obsessed Jacob won't leave his basement. After, a crazy night of drinking in a ski resort hot tub, the men wake up, heads' pounding, in the year 1986. This is their chance to kick some past and change their futures – one will find a new love life, one will learn to stand up for himself with the ladies, one will find his mojo, and one will make sure he still exists!
The folks over at 'Bad Taste' have got their hands on a stack of new posters for Jack Black upcoming animation project 'Kung Fu Panda' (pictured below).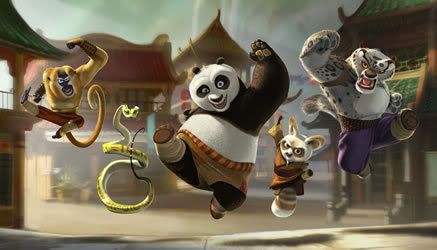 Black will voice Po the panda; a Kung fu fanatic whose signature-move is being the laziest animal in all of ancient China. Po must become a Kung Fu master to save his home from the evil snow leopard warrior Tai Lung (voiced by Ian McShane).

Jackie Chan, Lucy Liu, Angelina Jolie, Seth Green, David Cross and Dustin Hoffman voice a team of master Kung Fu animals who help Po on his quest. You can view the images HERE.
Kung Fu Panda kicks its way onto Irish screens July 4th.
TIDBIT: Jack Black often competes for the same parts as Philip Seymour Hoffman. On the School of Rock DVD audio commentary, he jokingly calls Hoffman "my nemesis."