See Tim Burton's classic in glorious 3D at our advance preview screening
It's no secret, we're huge fans of 'Tim Burton's Nightmare Before Christmas', so it's a great pleasure to announce that our next preview screening will be the stunning 3D version of Tim Burton's classic Christmas movie. Our free advance screening will be held in Dundrum cinemas on November 24th at 7pm.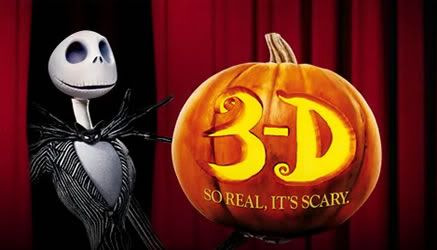 To win tickets to the 3D screening for you and a friend on Nov 24th simply check out question below then click here to submit your answer

Q: Who wrote the music in The Nightmare Before Chrismas 3D?
Clue : Check out the movie summary below!
Please include your real name, your address,your age and be sure to your Movies.ie username!
Click Here to submit your answer


MOVIE SYNOPSIS
Tim Burton's holiday classic, makes a return to the big screen this holiday season in stunning Disney Digital 3D™. The dazzling new make-over of the musical-fantasy was led by the film's original filmmaking team of Academy Award® nominated writer/producer Tim Burton (CHARLIE AND THE CHOCOLATE FACTORY, CORPSE BRIDE) and director Henry Selick ('James and the Giant Peach') as well as the talented technical wizards at Industrial Light + Magic.
Audiences will get closer than ever to Halloweentown's beloved Pumpkin King, Jack Skellington (voice of Chris Sarandon), as he attempts to take over the Christmas holiday. Against the advice of Sally (voice of Catherine O'Hara), a lonely rag doll who has feelings for him, Jack enlists three mischievous trick-or-treaters – Lock, Shock, and Barrel -to help him kidnap Santa Claus. Jack eventually realizes his mistake but has to contend with the evil Oogie Boogie before he can make things right and restore the Christmas holiday.
Fuelled by an unforgettable Grammy® nominated soundtrack featuring ten ghoulishly delightful songs by Oscar® nominee Danny Elfman (CORPSE BRIDE, BIG FISH) who also provided the singing voice for Jack, Tim Burton's THE NIGHTMARE BEFORE CHRISTMAS 3D combines the Oscar® nominated artistry of stop-motion animation with brand new state-of-the-art digital technology to create a unique and entertaining movie-going experience that is sure to become a modern holiday tradition.
NIGHTMARE BEFORE CHRISTMAS 3D is opening at cinemas around Ireland on November 28th
Including the following cinemas… Movies@Swords, Movies@Dundrum, Cineworld Dublin, IMC Dun Laoghaire, Gate Multiplex, Cork, Omniplex, Mahon Point, SGC, Dungarven, Omniplex Wexford and Omniplex Lisburn.