See the new Jason Statham movie first and free!
Death Race is an exciting new action movie from Resident Evil/Alien Vs Predator director Paul W.S Anderson. The adrenaline pumping film stars Jason Statham, Joan Allen and Ian McShane.

Universal Pictures and Movies.ie are giving you and a friend the chance to attend a preview screening of DEATH RACE on Tuesday September 23rd at 7pm in Movies@Dundrum in the Dundrum Town Centre.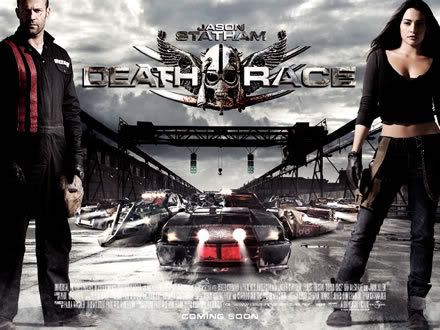 Movie Summary
Jason Statham leads the cast of an action-thriller set in the post-industrial wasteland of tomorrow, with the world's most brutal sporting event as its backdrop. A penitentiary full of felons has inspired the jailers to create a grisly pastime ripe for lucrative kickbacks. Now, adrenalized inmates, a global audience hungry for televised violence and a spectacular arena come together to form the Death Race.

Three-time speedway champion Jensen Ames (Statham) is an expert at survival in the harsh landscape that has become our country. Just as he thinks he has turned his life around, the ex-con is framed for a gruesome murder he didn't commit. Forced to don the mask of the mythical driver Frankenstein-a crowd favorite who seems impossible to kill-Ames is given an easy choice by Terminal Island's warden (Joan Allen): suit up or rot away in a cell.

His face hidden by a metallic mask, one convict will be put through an insane three-day challenge. Ames must survive a gauntlet of the most vicious criminals in the country's toughest prison to claim the prize of freedom. Driving a monster car outfitted with machine guns, flamethrowers and grenade launchers, one desperate man will destroy anything in his path to win the most twisted spectator sport on Earth.
HOW DO YOU ENTER THIS COMPETITION?
Simply answer the following question
Q: Who is the lead actor in Death Race?
Don't forget to include your Movies.ie username
and your postal address so we can post you tickets!
Send your answer and details to Screenings@Movies.ie
Winners will be notified in advance of the screening.
Note – This movie screening will be held at Dundrum cinemas, in Dublin 16.

DEATH RACE will open in Irish cinemas everywhere on SEPTEMBER 26th
For more information visit the official site http://www.deathracemovie.net