You've been voting for your favourite movies, animations, soundtracks of 2008 and finally the results are in…
Thank you for attending the Movies.ie 2008 Awards ceremony, go easy on the champagne and please, no tears during your acceptance speeches, nobody likes a cry baby.

Over the past few weeks, Members of Movies.ie have been voting in all sorts of categories for the best and worst of 2008. The results of your votes are posted below. Thanks to everyone who voted and thanks to everyone who made 2008 a great year on Movies.ie, here's hoping 2009 will be even better.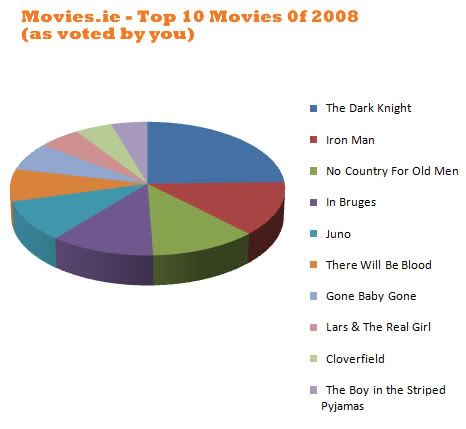 Best Hero 2008
1/ Tony Stark – (Iron Man)
2/ Bruce Wayne – (The Dark Knight)
3/ Wesley Gibson – (Wanted)
4/ Mulder – (X-Files : I Want To Believe)
5/ Bryan Mills

Best Villain 2008
1/ The Joker – (The Dark Knight)
2/ Daniel Plainview – (There Will Be Blood)
3/ Sweeney Todd – (Sweeney Todd)
4/ Col. Dr. Irina Spalko – (Indiana Jones)
5/ Harry Waters – (In Bruges)

Best Poster 2008
1/ Forgetting Sarah Marshall
2/ Lars and The Real Girl
3/ Choke
4/ Ben x
5/ Meet Dave

Best Irish Movie 2008
1/ In Bruges
2/ Hunger
3/ Kisses
4/ A Film with me in it
5/ 32A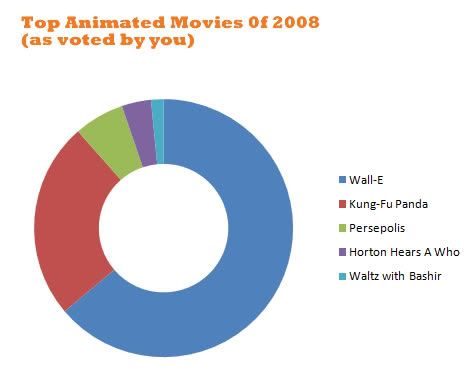 Best Trailer/Teaser
1/ Wall-E
2/ Wanted
3/ Burn After Reading
4/ Changeling
5/ How To Lose Friends & Alienate People
Best Soundtrack 2008
1/ Juno
2/ Sweeney Todd
3/ Sex and the city
4/ Pineapple Express
5/ Flashbacks of a fool

Best Non Mainstream Movie
1/ City Of Men
2/ The Visitor
3/ In Search Of A Midnight Kiss
4/ My Winnipeg
5/ Mister Lonely
Best Foreign Language Movie
1/ Persepolis
2/ Priceless
3/ The Wave
4/ I've Loved You So Long
5/ Linha De Passe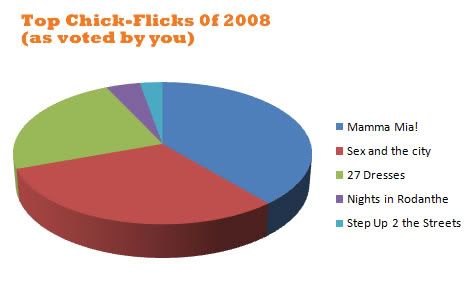 Best Comedy
1/ Tropic Thunder
2/ Step Brothers
3/ Definitely Maybe
4/ Ghost Town
5/ The House Bunny

Best Horror/Thriller
1/ The Mist
2/ Diary Of The Dead
3/ Teeth
4/ Funny Games
5/ Donkey Punch

Best Documentary 2008
1/ Man On Wire
2/ Where In The World Is Osama Bin Laden
3/ Gomorrah
4/ Shine A Light
5/ Saviours