Walk up the red carpet at the World Premiere of this wonderful movie, we have tickets galore to give away…
Already a critically acclaimed success in the literary world, THE BOY IN THE STRIPED PYJAMAS spent 66 weeks at the top of the Irish Book Charts. The film reaches Irish cinemas on September 12th, but you, however, may not have to wait that long to see it–you could be one of 100 lucky winners who will attend the World Premiere alongside the key cast and filmmakers…

Miramax Films and Movies.ie are giving you and a friend the chance to attend the World Premiere of THE BOY IN THE STRIPED PYJAMAS on Thursday September 4th at 7pm in Dublin's City Centre.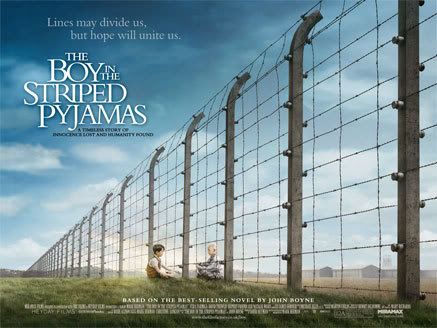 MOVIE SYNOPSIS
Adapted from Irish author John Boyne's critically acclaimed internationally best-selling novel, THE BOY IN THE STRIPED PYJAMAS is an unforgettable story seen through the innocent eyes of Bruno, the eight-year-old son of the commandant at a concentration camp, whose forbidden friendship with a Jewish boy, Shmuel, on the other side of the camp fence has startling and unexpected consequences.
THE BOY IN THE STRIPED PYJAMAS is a fictional story that offers a unique perspective on how prejudice, hatred and violence affect innocent people, particularly children, during wartime. The book was first published in 2006 and spent 66 weeks at Number One on the Irish Book Charts. It was also a New York Times bestseller and the winner of 2 Irish Book Awards, Bisto Book of the Year, and the Que Leer Award, among other accolades. The book has been translated into 35 languages and to date has sold 3 million copies worldwide.
From director Mark Herman (LITTLE VOICE, BRASSED OFF) and featuring an impressive cast including David Thewlis (HARRY POTTER), Vera Farmiga (THE DEPARTED), and Rupert Friend (PRIDE AND PREJUDICE), Miramax Films' THE BOY IN THE STRIPED PYJAMAS is released in Irish cinemas September 12.
HOW DO YOU ENTER THIS COMPETITION?
Simply answer the following question
Q: How many weeks did the book of THE BOY IN THE STRIPED PYJAMAS spend at the top of the Irish book charts?
Don't forget to include your Movies.ie username
and your postal address so we can post you tickets!
THIS COMPETITION IS NOW CLOSED.
WE HAVE MORE SCREENINGS HAPPENING ALL THE TIME – CHECK BACK SOON FOR MORE COMPETITIONS!

Tickets will be posted to the address provided in advance of the screening
THE BOY IN THE STRIPED PYJAMAS will open in Irish cinemas on SEPT 12th
Cert = 12A,
Running time = 94 mins
For more information visit the official site www.thefilmfactoryireland.com/boy/
All images copyright Miramax Films