'The Wrestler' Wins Venice Film Fest
Darren Aronofksy's drama 'The Wrestler' has picked up this year's Golden Lion at the Venice Film Festival.
The film stars Mickey Rourke, as Randy (the Ram) Robinson, an aging pro wrestler, struggling to come to terms with the end of his career.
Speaking about the win, Aronofksy, who recently signed on to helm a remake of Robocop, said: "I think the reason people are reacting to this film is that there is a great talent revealing his soul."
Rourked added, "Darren Aronofsky came here a couple of years ago and fell on his ass (referring to the helmer's 'The Fountain,' which premiered in Venice in 2006 and subsequently flopped), I am glad he had the balls to come back.
A list of winners from this year's 65th Venice film festival can be found after the jump!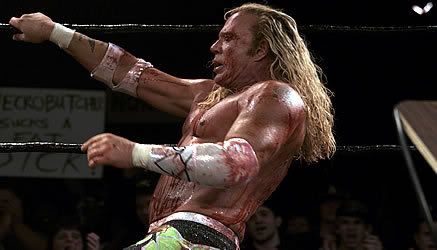 PRIZES OF THE 65TH VENICE FILM FESTIVAL
GOLDEN LION 'The Wrestler,' (Darren Aronofsky, US)
SILVER LION 'Paper Soldier' (Aleksey German Jr., Russia)
GRAND JURY PRIZE 'Teza,' (Haile Gerima, Ethiopia-Germany-France)
ACTOR Silvio Orlando ('Il Papa di Giovanna', Italy)
ACTRESS Dominique Blanc ('L'Autre,' France)
BEST SCREENPLAY Haile Gerima ('Teza,' Ethiopia-Germany-France)
TECHNICAL CONTRIBUTION (Cinematography) Alisher Khamidhodjev, Maxim Drozdov ('Paper Soldier,' Russia)
MARCELLO MASTROIANNI PRIZE FOR YOUNG PERFORMER Jennifer Lawrence ('The Burning Plain,' US)
SPECIAL LION FOR BODY OF WORK Werner Schroeter (Germany)
LUIGI DE LAURENTIIS LION OF THE FUTURE 'Pranzo di Ferragosto,' (Gianni Di Gregorio, Italy)
VENICE HORIZONS 'Melancholia' (Lav Diaz, Philippines)
VENICE HORIZONS DUCUMENTARY 'Below Sea Level,' (Aleksey Fedortchenko, Russia)
HORIZONS SPECIAL MENTION 'Un Lac,' (Philippe Grandrieux, France)
VENICE HORIZONS SECOND SPECIAL MENTION 'Women,' (Huang Wenhai, China-Switzerland)