Continuing our 2009 Movie Preview, we review the most antipated flicks of the year from 'Fame' to 'He's Just not that into You'

FAME
Sept 09

"Fame" proves that it really does "live forever" this year with a remake of the classic '80s dance flick set for the big screen. Directed by Kevin Tancharoen, and written by Alien Brosh McKenna, the film will once again follow the students of New York High School of Performing Arts from their early auditions to graduation day. Expect toe tapping numbers from start to finish and some familiar faces among the cast!

FANTASTIC MR FOX
November 2009
Combine a classic Roald Dahl adventure and Wes Anderson and what have you got – well, something FANTASTIC! Taking a break from his usual flicks of family dysfunction, Anderson is tackling Dahl's childhood classic "Fantastic Mr. Fox". Created in stop motion animation, the story follows Mr. Fox, who steals food from three mean farmers – Boggis, Bean and Bunce -so he can feed his family. We watch on as the desperate farmers resort to ever more outrageous means in their attempts to kill the fantastic Mr. Fox. Anjelica Huston, who previously worked with Anderson on The Life Aquatic with Steve Zissou and The Royal Tenenbaums will voice a character in the movie, as well as other Anderson regulars, Jason Schwartzman and Bill Murray.
FARRAGUT NORTH
TBC
George Clooney is once again stepping into the director's chair to helm "Farragut North". Based on Beau Willimon's much acclaimed political play and starring Leonardo DiCaprio, the story follows a young communications director for a fast-rising presidential candidate. During the course of the campaign, the idealistic young man falls prey to the backstabbing and other dirty trickery of seasoned rivals. Why are we so excited? Well, no one does classy political drama like Georgie boy and if Willimon's play is all that it is rumoured to be, audiences can expect a brilliant movie (and George can expect a few more gold statuettes…)
FINAL DESTINATION: DEATH TRIP 3D
Aug 09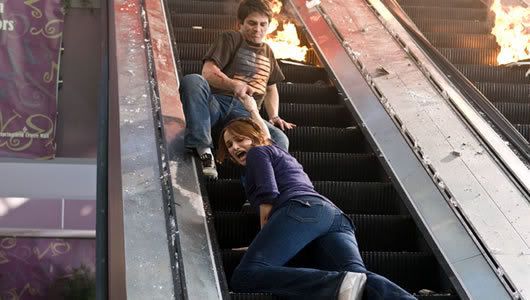 On what should have been a fun-filled day at the races, Nick O'Bannon has a horrific premonition in which a bizarre sequence of events causes multiple race cars to crash, sending flaming debris into the stands, brutally killing his friends and causing the upper deck of the stands to collapse on him. When he comes out of this grisly nightmare Nick panics, persuading his girlfriend, Lori, and their friends, Janet and Hunt, to leave… escaping seconds before Nick's frightening vision becomes a terrible reality. Thinking they've cheated death, the group has a new lease on life, but unfortunately for Nick and Lori, it is only the beginning. As his premonitions continue and the crash survivors begin to die one-by-one–in increasingly gruesome ways–Nick must figure out how to cheat death once and for all before he, too, reaches his final destination. The film marks the latest in the highly popular "Final Destination" series, and its first 3D instalment, giving horror fans an especially visceral thrill ride.

FRIDAY THE 13TH
Feb 2009
He's back…. In this re-imagining of the classic horror film, Clay searches for his missing sister in the eerie woods of legendary Crystal Lake, where he stumbles on the creaky remains of rotting old cabins behind moss-covered trees. And that's not the only thing lying in wait under the brush. Against the advice of police and cautions from the locals, Clay pursues what few leads he has, with the help of a young woman he meets among a group of college kids up for an all-thrills weekend. But they are about to find much more than they bargained for. Little do they know, they've entered the domain of one of the most terrifying spectres in American film history–the infamous killer who haunts Crystal Lake, armed with a razor-sharp machete…Jason Voorhees.

G-FORCE
July 09
Producer Jerry Bruckheimer brings his first 3-D film to the big screen with "G-Force," a comedy adventure about the latest evolution of a covert government program to train animals to work in espionage. Armed with the latest high-tech spy equipment, these highly trained guinea pigs discover that the fate of the world is in their paws. Tapped for the G-Force are guinea pigs Darwin (voice of Sam Rockwell), the squad leader determined to succeed at all costs; Blaster (voice of Tracy Morgan), an outrageous weapons expert with tons of attitude and a love for all things extreme; and Juarez (voice of Penelope Cruz), a sexy martial arts pro; plus the literal fly-on-the-wall reconnaissance expert, Mooch, and a star-nosed mole, Speckles (voice of Nicolas Cage), the computer and information specialist.
G.I. JOE: THE RISE OF COBRA
August 2009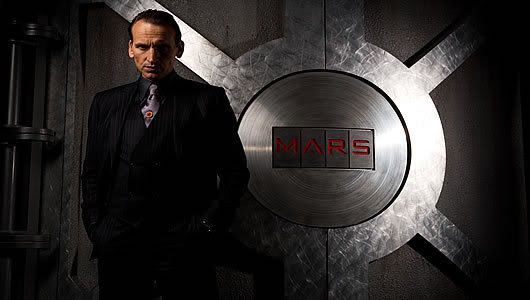 From the Egyptian desert to deep below the polar ice caps, the elite G.I. JOE team uses the latest in next-generation spy and military equipment to fight the corrupt arms dealer Destro and the growing threat of the mysterious Cobra organization to prevent them from plunging the world into chaos. Directed by Stephen Sommers, this escapist action flick prmoises an abundance of explosions, stunts and hot totty in the shape of Sienna Miller and Rachel Nichols. And for all those Doctor Who fans, you can also discover what Christopher Eccleston has been up to in recent times, as he takes on the role of baddie Destro.

HARRY POTTER AND THE HALF-BLOOD PRINCE
July 2009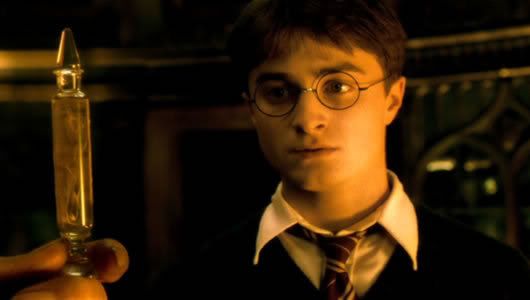 Voldemort is tightening his grip on both the Muggle and wizarding worlds and Hogwarts is no longer the safe haven it once was. Harry suspects that dangers may even lie within the castle, but Dumbledore is more intent upon preparing him for the final battle that he knows is fast approaching. Together they work to find the key to unlock Voldemort's defenses and, to this end, Dumbledore recruits his old friend and colleague, the well-connected and unsuspecting bon vivant Professor Horace Slughorn, whom he believes holds crucial information. Meanwhile, the students are under attack from a very different adversary as teenage hormones rage across the ramparts. Harry finds himself more and more drawn to Ginny, but so is Dean Thomas. And Lavender Brown has decided that Ron is the one for her, only she hadn't counted on Romilda Vane's chocolates! And then there's Hermione, simmering with jealously but determined not to show her feelings. As romance blossoms, one student remains aloof. He is determined to make his mark, albeit a dark one. Love is in the air, but tragedy lies ahead and Hogwarts may never be the same again.
HANNAH MONTANA: THE MOVIE
May 2009
Tweens will be working themselves into a frenzy as Hannah Montana gets set for big screen return! In it, Miley Stewart (MILEY CYRUS) struggles to juggle school, friends and her secret pop-star persona; when Hannah Montana's soaring popularity threatens to take over her life – she just might let it. So her father takes the teen home to Crowley Corners, Tenn., for a dose of reality, kicking off an adventure filled with the kind of fun, laughter and romance even Hannah Montana couldn't imagine….
HE'S JUST NOT THAT INTO YOU
February 2009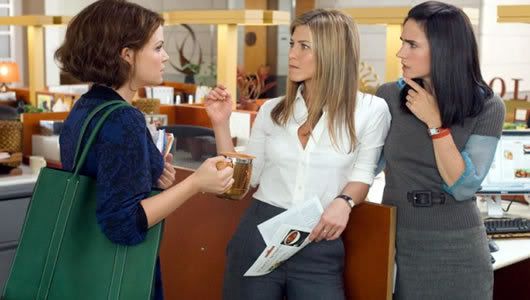 An all-star cast is featured in the stories of a group of interconnected, Baltimore-based twenty- and thirtysomethings as they navigate their various relationships from the shallow end of the dating pool through the deep, murky waters of married life. Trying to read the signs of the opposite sex, each hopes to be the exception to the "no exceptions" rule.

Tomorrow we'll look at movies I – N. Stay tuned!