Check out the first picture from Adam Sandlers' next project 'Bedtime Stories'.
A first look at Adam Sanders' next project 'Bedtime Stories' has hit the web.
Sandler plays Skeeter Bronson, a hotel handyman whose life is changed forever when the bedtime stories he tells his niece and nephew start to mysteriously come true. He attempts to take advantage of the phenomenon, incorporating his own aspirations into one outlandish tale after another, but it's the kids' unexpected contributions that turn Skeeter's life upside down.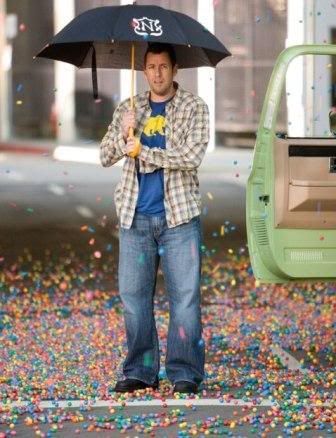 The film stars Guy Pearce, Keri Russell, Richard Griffiths, Courteney Cox, Lucy Lawless, Teresa Palmer, Russell Brand, Aisha Tyler and Jonathan Pryce. Adam Shankman (The Wedding Planner) is directing the project, which is expected in cinemas on Christmas Day, 2008.
Sandler recently visited Dublin to promote his upcoming film 'You Don't Mess With The Zohan' (out August 15th).
Stayed tuned to Movies.ie next week for our upcoming video interview with Adam Sandler.