Accomplished sailor Charlie St. Cloud has the adoration of mother Claire and little brother Sam, as well as a college scholarship that will lead him far from his sleepy Pacific Northwest hometown. But, his bright future is cut short when a tragedy strikes and takes his dreams with it. After his high-school classmate Tess returns home unexpectedly, Charlie grows torn between honoring a promise he made four years earlier and moving forward with newfound love. And, as he finds the courage to let go of the past for good, Charlie discovers the soul most worth saving is his own.
Welcome to Speed Racer week on Movies.ie!
Speed Racer is the fast new movie from the Matrix directors opening this Friday.
Every day this week we'll bring you new content relating to the movie, including behind the scenes features and video interviews with all the cast.
To kick start the week we have got our hands on copies of the tie-in video game. The video game allows you to play as Speed racer or more than 15 other characters from the film –
High-speed action at over 350 MPH as you race through amazing stadium
tracks featuring loops, corkscrews, jumps and more – Smash, jump, flip
and spin with massive "car-fu" combat.
To try your luck, check out this film still and leave a caption in the comment area below.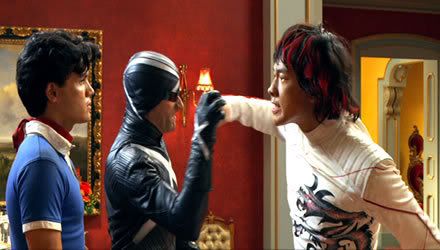 The best captions will win a copy of the game, so get posting!
(You'll need to be logged in to post)