Kung Fu Panda video games up for grabs!
To celebrate the release of Jack Black's comedy animation 'Kung Fu Panda' we have copies of the tie-in videogame up for grabs.
Here's your chance to master the specialized Kung Fu
fighting style (as seen in the film) as you embark on an epic,
action-packed adventure with the unlikely hero Po , his teacher Shifu, and
the legendary Kung Fu masters, the Furious Five. Through 13 legendary
levels from the movie and beyond, you must work your way to become the
Dragon Warrior.
Relive the Movie and Go Beyond With Exclusive Content – Experience favorite moments based on the film and discover never-before-seen, game-exclusive content co-created by DreamWorks Animation and Activision including a variety of environments, such as the mystical Lotus Lake, and characters, like the baddest ninja cats around, the Wu Sisters.
Experience 13 Legendary Levels – Players traverse 13 multi-stage levels from the movie and beyond, spanning air, water and land, to battle a variety of foes, overcome dangerous obstacles, navigate multi-tiered environments and solve challenging puzzles.
Join friends in multi-player action and co-op mode – Gamers can go head-to-head against friends across a wide variety of battle arenas with their favorite characters including Po and the Furious Five, Tai Lung, the ferocious Ox and others. Players can also team up in cooperative mode to work through a series of unique challenges and defeat dangerous enemies.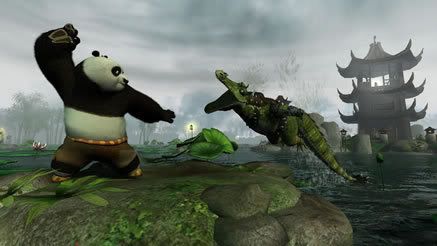 All you have to do to enter is write a very small review of the new Kung Fu Panda movie on our Kung Fu Panda Movie page.
Winners will be picked at random to win these great prizes.
Kung Fu Panda is out now on all major formats including Nintendo Wii, PS2, PS3, Xbox 360, PC and Nintendo DS.

For more info visit www.kungfupandagame.co.uk