Win a copy of Kevin Spacey's card-counting Las Vegas flick '21' – out now on DVD.
The glitz and glamour of Las Vegas come to the small screen this weekend with Kevin Spacey's card-counting pic '21′
In it newcomer Jim Sturgess plays Ben Campbell, a shy, brilliant M.I.T. student who–needing to pay school tuition–finds the answers in the cards. He is soon recruited to join a group of the school's most gifted students that heads to Vegas every weekend armed with fake identities and the know-how to turn the odds at blackjack in their favor. With unorthodox math professor and stats genius Micky Rosa leading the way, they've cracked the code. The stakes are high and the challenge becomes not only keeping the numbers straight, but staying one step ahead of the casinos' menacing enforcer: Cole Williams.
To celebrate the release of '21′ DVD, we have copies up for grabs!
To try your luck, view the film still and leave a caption in the comment area below.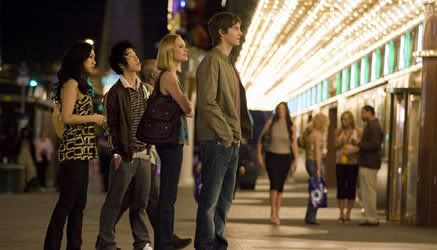 The best captions will win a copy of the DVD, so get posting! (You'll need to be logged in to post)
'21' is out now on DVD and Blu-ray.