Audiences voted it the best movie at this years Sundance festival, what will Irish audiences think of it? Check out our advance screening.
It's the most talked about independent movie of the year, having won the prestigious audience award at Sundance it continues to be a huge success at the American box office, despite being on limited release.
Revolver Entertainment and Movies.ie are giving you and a friend the chance to attend an advance preview screening of THE WACKNESS on Saturday August 23rd at 12 Noon in Dublin's City Centre.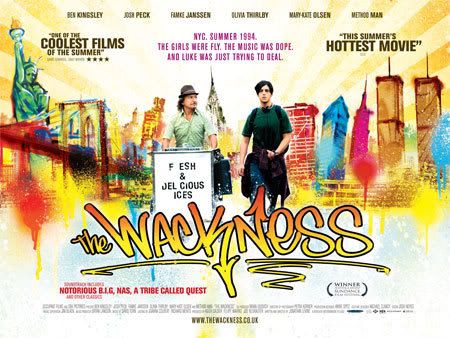 MOVIE SYNOPSIS
It's the summer of 1994, and the streets of New York are pulsing with hip-hop and wafting with the sweet aroma of marijuana—but change is in the air. The newly-inaugurated mayor, Rudy Giuliani, is beginning to implement his anti-fun initiatives against "crimes" like noisy portable radios, graffiti and public drunkenness. Set against this backdrop, Luke Shapiro (Josh Peck) spends his last summer before college selling dope throughout New York City, trading it with his shrink (Ben Kingsley) for therapy, while crushing on his step daughter (Olivia Thirlby). Famke Janssen, Mary Kate Olsen,and Method Man round out the cast in this edgy, bittersweet, and funny coming of age story.
HOW DO YOU ENTER THIS COMPETITION?
Be amongst the first to mail us with the answer to this simple question
Q: Name one other movie that Ben Kingsley appeared in?
Don't forget to include your Movies.ie username
and your postal address so we can post you tickets!
Send your answer and details to Screenings@Movies.ie
We have 100 tickets to give away, this competition is FIRST COME, FIRST SERVED! Prizes will go to the FIRST entries that we receive in our inbox!
Note : This is a Saturday, Noon screening! Winners will be notified by email in advance of the screening.

THE WACKNESS will open in Irish cinemas everywhere on August 29th
View the trailer on the official site www.thewackness.co.uk