With Easter fast approaching, Movies.ie takes a look at the Doctor Who feature special – Planet of the Dead
His reign as the every ones' favourite Time Lord may be close to an end but fans of the Doctor David can take solace in the first trailer for the next special "Planet of the Dead" – due this Easter Saturday.

The BBC's official description of the special reads: "When a London bus takes a detour to an alien world, the Doctor must join forces with the extraordinary Lady Christina, in this one-off seasonal special. But the mysterious planet holds terrifying secrets, hidden in the sand. And time is running out, as the deadly Swarm gets closer.

For those disappointed with the kitsch Victorian stylings of the Christmas special this is welcome return to the darker side of Doctor Who ; set in a deserted location with terrified Londoners and an armada of flying Sting Rays. You can check out the youtube trailer below and some screen grabs.

The Lady Bionic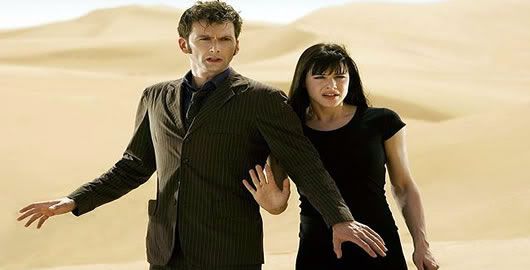 From Zoe Slater to Bionic woman to Doctor Who, Michelle Ryan is the latest chav conquest for our man Who. She stars as the mysterious Lady Christina de Souza. Rumour has it her character will lead to a "shocking event" in the Doctor's life, this could mean that someone important from his past may be returning…
Colour Me Pitch Black?
Forget the Ood, the Cybermen, even the Daleks, "Planet of the Dead" promises not one but two new alien species – with the trailer highlighting an armada of flying sting rays (reportedly called The Swarm). This is the first ever Doctor Who episode to be filmed in HD and by the looks of the aliens a fair portion of the budget went on SFX – but is it just us, or do these flying jellyfish remind anyone of Pitch Black?
Blue Box- Red Bus?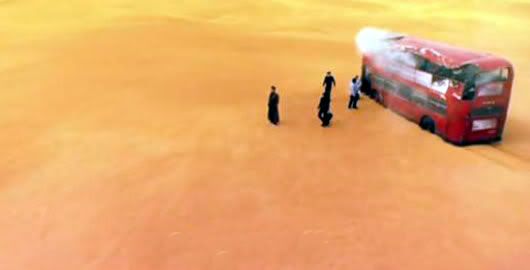 Filmed in Dubai, the episode has little to fall back on in the way of setting; with sand as far as the eye can see. A refreshingly stark setting for a Doctor Who special to be sure but what is really intriguing the fans is the fact that the Doctor seems to be separated from his beloved 60's police box TARDIS? The Doctor and his companions appear to arrive on this alien planet (quite by accident) via a London bus. Could this be another TARDIS and if so, who is its master?
Check out the first trailer in the clip above – are you excited for more Doctor Who?