Director Jean-Paul Salom
Out on DVD this Friday is the latest French tale of war and espionage 'Les Femmes de l'ombre'. Centring on former Bond girl Sophie Marceau, the film recounts the forgotten tale of women of the Second World War and the parts they played. But do we need another Holocaust/World War II film? That was our pressing question for director Jean-Paul Salomé and actress Déborah François when we met the two last week…

It's late in the evening and we're the final interview for the two before they dart off to the Light House cinema for the Premiere screening of the film. No doubt addled from a long day of flights and press, I was nevertheless successful in putting the pair at ease thanks to an ominous, albeit welcome, Freudian slip:
Q: Why did we need another World War 3 movie? (Sorry, I mean WW 2!)
DF: We definitely don't need any World War 3 movies! (Laughs) Well, this is the first time it's been told from the side of women. It's important to say what women did during the war and nobody has done that. Nobody said woman suffered during the war and not only as nurses. I think they were forgotten after the War. After the War, men were heroes and women were just women…
JPS: Like Déborah said, the fact that this concerns the heroic efforts of women is something that's been overlooked. These women, these groups of women were heroes during the time but after the war, they returned to family life. They became wives and mothers; I felt it's very important to tell their stories.
Q: There have been a number of successful WWII movies recently that combine real life footage/stories with (practically) fictionalised narratives (for example, Downfall, Sophie Scholl: The Final Days). This film does the same: In your opinion, is it more fact or fiction?
JPS: I'd describe it as a fiction film. It's a thriller. It's based on real facts and draws on elements of real characters but then there's the whole fictionalised element. We did wanted the film to be credible and during the writing of the script I worked alongside Olivier Wieviorka to ensure this. But overall, I think the film belongs to the thriller genre, not historical documentary.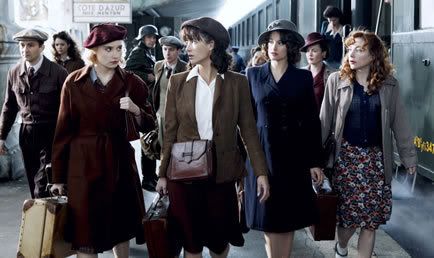 Q: Given that this pic is so female centric, how do you think Jean-Paul did at directing the film?
DF: Well I don't have a problem with Jean-Paul directing. I don't think there's a problem with men doing movies about women or vice versa. I don't think we needed a woman to think what a woman would have thought. He did it very well and we were already five women in the movie! I think this was a very good balance.
Q: Why do you think directors are still so influenced by the holocaust/WWII?
JPS: The majority of eye-witnesses have died now and, although our generation did not experience it, it is our duty to bear witness to those who have. And when we shot the 'questioning scenes', I prefer to call them that than torture scenes, when we entered the scene, we really could feel the burden of what people experienced during that time. I think cinema has that unique power to keep memory alive.

Q: Déborah, what attracted you to your character?
DF: I think it was the ambiguity of her character. She's someone you both admire and at the same time hate for her actions. She's so young and so innocent. She couldn't have thought one day she'd be there tortured by Nazis. I couldn't judge her, I don't think anyone could. For me, she is very touching because she's true.
JPS: Indeed, I think setting coding the film as a thriller allowed me to develop more ambiguous characters, on the German side as well as on the Resistance side. Nothing is ever black and white in life. Nobody was a Resistance fighter every second of every day, nor a Nazi- torturer from morning till night.

Q: The film follows the style of many classic Hollywood thrillers yet it doesn't whimp out in showing the horror of the events. Was it difficult to get the go ahead considering some of the more disturbing scenes?
JPS: As far as the people who financed the film go, they were a bit worried, but I didn't want to have a softer version. But, to be honest, I didn't want to show violence for violence sake. So instead, I'd learnt to show it indirectly. I'd only suggest things, so for instance when the pregnant Sophie is beaten, we only really hear what's going on. I think that had a stronger impact on the audience.

Q: Finally, would you consider working in English?
Well this film is a mixture between three languages; French, German and English but for me, I consider language and acting a form of music. Tone is everything, I've worked with actors from all different languages and I don't think its necessarily important to work in English.
'Female Agents' is on DVD in Ireland from Friday October 3rd.