'Dirty Grandpa' is released in Irish cinemas this week; the film sees Robert De Niro and Zac Efron team up to tell the story of Jason (Efron) an uptight man who is tricked by his grandfather Dick (De Niro) into driving to Florida for Spring Break. The trouble is that it is just days before Jason's wedding.
To celebrate the release of 'Dirty Grandpa' Movies.ie have gathered together some facts about 'Dirty Grandpa'.
1. What's in a name?
Although the film has a similar title, it is not to be confused with the 2013 film 'Bad Grandpa', which saw Johnny Knoxville dress up as an elderly man in order to prank the public.
2. Alternate Casting
Before Robert De Niro was cast in the title role, Jeff Bridges and Michael Douglas were considered for the role of Dick Kelly.
3. Call Back
In 'Bad Neighbours', Zac Efron dressed up as Travis Bickle, Robert De Niro's character in 'Taxi Driver'. We bet this led to some interesting conversations on the set of this film.
4. Birthday Suit
In this film, Zac Efron's ride a motorbike while naked. Before Efron fans get too excited though, we feel we ought to mention that this is not Efron, the scene was performed by a body double.
5. Double
Although the Spring Break scenes in the film are set in Flordia, they were, in reality, filmed at Tybee Island in Georgia.
6. Strength
In one of the film's posters, De Niro is holding Efron over his shoulders. Efron confirmed, via Instagram, that De Niro actually lifted Efron without any help. Not bad for a 72 year old man!

7. Homage
Another of the film's posters pays homage to the classic Dustin Hoffman film 'The Graduate'. In the poster, Efron stands in front of De Niro as he pulls on his socks.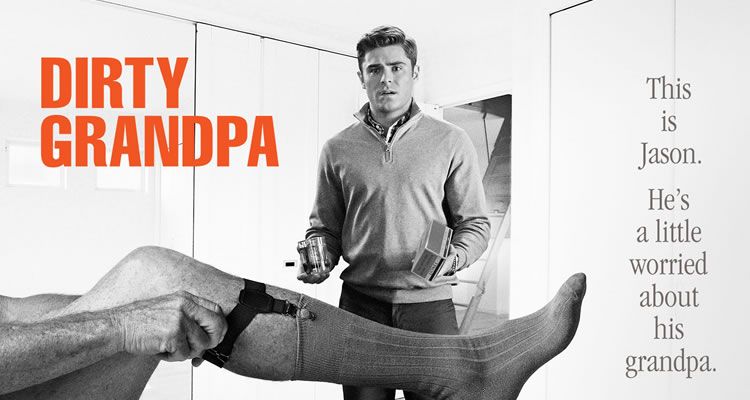 8. Co-Stars
As well as Efron and De Niro, 'Dirty Grandpa' also stars Julianne Hough , Aubrey Plaza, Zoey Deutch, Dermot Mulroney and Adam Pally.
9. Most Liked
The screenplay for 'Dirty Grandpa' was featured on the 2011 Hollywood Black List; a list of the most liked screenplays of the year. It took almost four years for the film to go into production, with filming starting in Georgia in January 2015.
10. When can I see 'Dirty Grandpa'?
'Dirty Grandpa is released in Irish cinemas on January 29th 2015. Watch the trailer below…