Get your hands on Adam Sandler's latest comedy "You Don't Mess With The Zohan"
Comedy superstar Adam Sandler is better than ever in the hysterical comedy You Don't Mess With The Zohan, available to buy on DVD and Blu-ray now.
Written and produced by JUDD APATOW (Pineapple Express, Step Brothers, Superbad) and directed by DENNIS DUGAN (I Now Pronounce You Chuck and Larry), You Don't Mess With The Zohan stars Adam Sandler as The Zohan, the finest counterterrorist agent the Israeli army has. That is, until he fakes his death and travels to Manhattan to live his dream…as a hairdresser. Now this skilled fighting machine who used to clip bad guys is out to prove he can make the cut as a top stylist. All goes silky smooth until his cover is blown when he's recognized by a Palestinian cab driver (Rob Schneider). Now, The Zohan must fight to live a peaceful new life in New York in this action-comedy from Adam Sandler, Robert Smigel, Judd Apatow and Dennis Dugan.
To celebrate the release of "You Don't Mess With The Zohan", Movies.ie has copies of the DVD up for grabs.

To try your luck, view the film still and leave a caption in the comment area below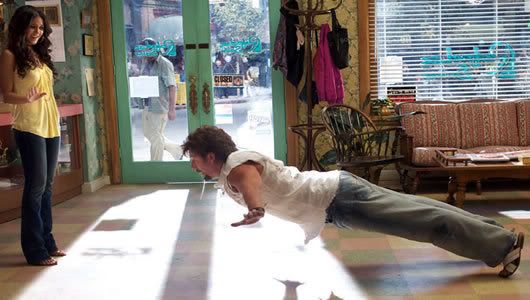 The best captions will win a copy of the DVD, so get posting! (You'll need to be logged in to post)

"You Don't Mess With The Zohan" is out now on DVD and Blu-ray.