Win a copy of Paul Rudd's hilarious comedy "Role Models" – out now on DVD
Jam-packed with fantastic quips and hilarious innuendoes, Role Models is out now on DVD and to celebrate, Movies.ie has five copies up for grabs!
Synopsis: Unconventional salesmen, stuck-in-a-rut Danny (Paul Rudd) and lady's man Wheeler (Seann William Scott), spend their days promoting Minotaur energy drink to school students. Full of self-loathing and driven to delirium after being dumped by girlfriend Beth (Elizabeth Banks), Danny lashes out on an energy drink bender, trashing both the company truck and school property, resulting in the arrest of both him and Wheeler. Wheeler and Danny are faced with a choice; either do time in jail or clock one hundred and fifty hours as mentors for troubled children. These unlikely role models are assigned to the most difficult children on offer, making them contemplate jail as an easier option! Danny is paired with dorky role playing loner, Augie (Superbad's Mclovin' Christopher Mintz-Plasse), whilst Wheeler is the latest victim of booby obsessed, foul-mouthed Ronnie (Bobb'e J. Thompson). Let the fun begin!
To win, all you have to do is view the film still and leave a caption in the comment area below.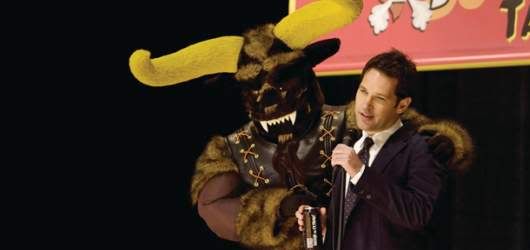 The best captions will win a copy of the DVD, so get posting! (You'll need to be logged in to post)
"Role Models" is out now on DVD!