Sly's latest Rambo pic makes its way to DVD and we have copies to give away!
Sylvester Stallone pulls on the camo one more time as Vietnam vet John Rambo takes on the Burmese military. Since helping the mujahedeen rid Afghanistan of the Russians, John Rambo (Stallone) has been living a quiet life in northern Thailand, trapping poisonous snakes to sell to local entertainers. But when a group of human rights missionaries pleads with him to ferry them upstream to Burma to re-supply the oppressed Karen tribe, Rambo reluctantly agrees. A few weeks later however, word filters through that the missionaries have been taken hostage by the Burmese military, who are using them as pawns in their local war. Knowing the hostages have no other hope of rescue, Rambo sets out into the heart of the jungle on a one-man mission to hell and back.
We have lots of copies of the DVD set to give away! (and maybe some T-shirts too)

To try your luck, view this film still and leave a caption in the comment area below.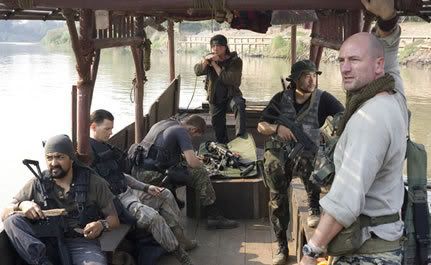 The best captions will win a copy of the DVD, (and maybe a Tshirt) so get posting!
(You'll need to be logged in to post)