The Coen Brothers triumphant return, 'No Country for Old Men', comes to DVD this week and we have copies to give away!
The Coen Brothers return to form with their Oscar winning contemporary western 'No Country For Old Men'. Adapted from a Cormac McCarthy novel, Joel and Ethan Coen deliver a strict screen adaptation of the 2005 work of the same name. In '80s Texas, Moss (Josh Brolin) is out hunting when he happens upon the aftermath of a botched drug deal. Among the bullets, bodies and bloodshed, there is two million dollars for the taking. Moss takes the money but is soon pursued by Anton Chigurh (Javier Bardem), looking for the money and leaving a trail of dead men in his wake. Tommy Lee Jones plays the old-world sheriff Bell, who chases Moss in order to stop Chigurh. Relying on wide shots and prolonged silences to build the tension, 'No Country For Old Men' harks back to earlier Coen works such as 'Blood Simple' and 'Fargo'. Performances are strong throughout with a confident Brolin taking the lead, Bardem offering an unnerving performance as the bowl-haired unstoppable killer and Jones capably capturing the confusion of a man who feels the world becoming a darker place. 'No Country For Old Men' is a film which deserves to be watched and re-watched – and here's your chance.
We have 5 copies of the DVD up for grabs… To try your luck, check out this film still and leave a caption in the comment area below.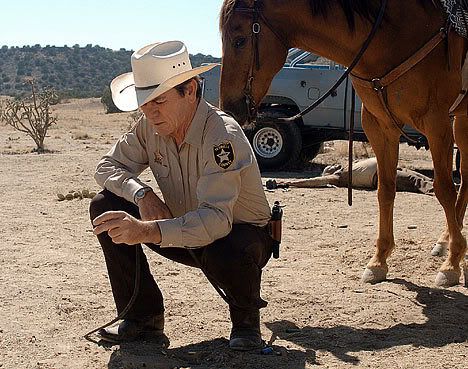 The best captions will win a copy of the DVD, so get posting!
(You'll need to be logged in to post)