Win a copy of 'Lost Boys 2: The Tribute', sequel to the classic cult vampire movie.
Get ready to sink your teeth into the long-awaited sequel to the '80s cult classic 'The Lost Boys.'

The sequel to the 1987 cult hit The Lost Boys takes us to the shady surf city of Luna Bay, California, where vampires quickly dispatch anyone who crosses their path. Into this dark world arrive Chris Emerson and his younger sister, Nicole. Having just lost their parents (their father is Michael Emerson, Jason Patric in the original Lost Boys) in a car accident, the siblings move in with their eccentric Aunt Jillian and become new prey for the locals' way of life. When Nicole unwittingly falls for a local vampire, Chris must locate and destroy the gang's lifeline before his sister's transformation is complete. To do this Chris finds himself relying on the expertise of none other than Edgar Frog (Corey Feldman) and Sam Emerson (Corey Haim).
Released as a celebratory 2 disc set with the original film, you couldn't hope for a more enticing fright fest of gore and we have copies to give away.
To try your luck, view the above film still and leave a caption in the comment area below.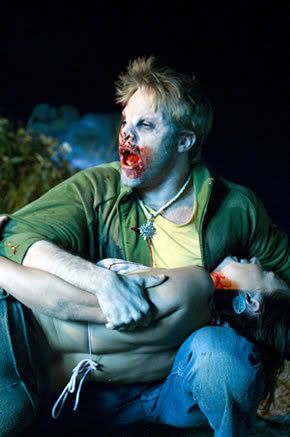 The best captions will win a copy of the DVD, so get posting! (You'll need to be logged in to post)
Lost Boys 2: The Tribe is on DVD from September 8th.