Get your hands on Jason Statham's turbo charged 'Death Race' – out now on DVD.
Mayhem rules in Death Race, a head-over-heels remake of the Roger Corman cult classic Death Race 2000, in which cars become lethal weapons.
In a futuristic maximum-security prison, cons take part in brutal races around the island prison, their violent deaths watched live by millions of viewers. Jason Statham, possibly cast because of his driving dexterity in the Transporter movies, plays a man wrongly imprisoned for murder. Joan Allen provides her brittle cool as the warden, who recruits Statham to assume the masked persona of a legendary driver called Frankenstein.

To celebrate the release of Jason Statham's latest movie on DVD, we've got copies of the DVD to giveaway.
To try your luck, view the film still and leave a caption in the comment area below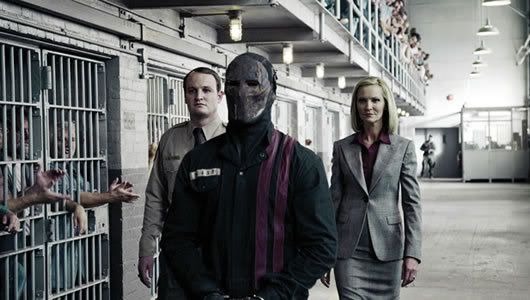 The best captions will win a copy of the DVD, so get posting! (You'll need to be logged in to post)
"Death Race" is out now on DVD and Blu-ray.