'Blair Witch' Meets 'Godzilla' in J.J Abram's 'Cloverfield', and here's your chance to win a copy of the DVD.
If you haven't seen 'Cloverfield', your best bet is to approach with as little knowledge as possible; suspense is the name of the game here. Suffice to say, Manhattan is under attack from, well, you'll have to wait and see… We watch from the perspective of a personal video camera, as the film follows a group of twenty-somethings as they venture out across New York City to rescue one of their friends while something very large and dangerous is attacking their city…
A movie for the Youtube Generation, J.J Abrams 'Cloverfield' was one of this year's best kept secrets. Here's your chance to own this awesome movie on DVD featuring killer extras including alternate endings, deleted scenes, "The Making of Cloverfield", a look at the visual effects, commentary by director Matt Reeves and much more.
We have 5 copies of the DVD up for grabs… To try your luck, check out this film still and leave a caption in the comment area below.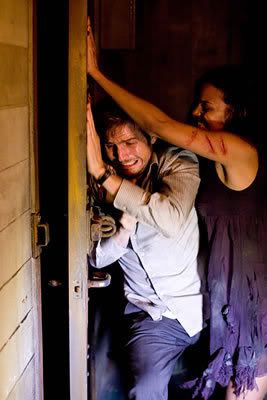 The best captions will win a copy of the DVD, so get posting!
(You'll need to be logged in to post)