Watchmen site gets new character bios!
For all you Watchmen fanatics desperate for a fix, the official website for the Zack Snyder directed adaptation has been updated.
The site now includes character bios for each of the main superheroes and downloads such as wallpapers and buddy icons.

Click the picture below to be taken to the website: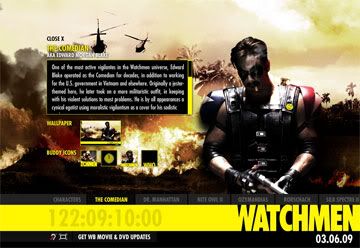 Directed by Zack Snyder, Watchmen is based on the 12-part DC Comics series written by Alan Moore and featuring art by Dave Gibbons. Starring Patrick Wilson, Jackie Earle Haley, Matthew Goode, Billy Crudup, Jeffrey Dean Morgan, Malin Akerman, Carla Gugino, Stephen McHattie and Matt Frewer, the movie explodes into Irish theatres March 6, 2009.