Has Synder hit gold with Watchmen? We think so- check out the Movies.ie breakdown of next year's biggest comic adaptation.
OK first things first, if you haven't read Watchmen – we insist you run to your local comic book establishment and buy two! The first to read; the second to worship at your homemade Alan Moore shrine.
For newbies to the graphic novel turned film, here's the official synopsis: A complex, multi-layered mystery adventure, Watchmen is set in an alternate 1985 America in which costumed superheroes are part of the fabric of everyday society, and the "Doomsday Clock" – which charts the USA's tension with the Soviet Union – is permanently set at five minutes to midnight. When one of his former colleagues is murdered, the washed-up but no less determined masked vigilante Rorschach sets out to uncover a plot to kill and discredit all past and present superheroes. As he reconnects with his former crime-fighting legion – a ragtag group of retired superheroes, only one of whom has true powers – Rorschach glimpses a wide-ranging and disturbing conspiracy with links to their shared past and catastrophic consequences for the future. Their mission is to watch over humanity…but who is watching the watchmen?
As we previously reported, the first official trailer to the film adaptation is expected to be attached to next week's Dark Knight (yay) but there's no need to wait! The trailer is now online in all its dystopian glory. Click play to watch.
As trailers go, we think fans will be impressed with Zack Snyder's take.We were sceptical about this one for a while now folks, but just watching this, it looks like Snyder and team really managed to keep this dense and chilling tale as close to the source material as possible. Kudos to them!
We've grabbed a few stills from the trailer, including the all important first look at Doctor Manhattan, a glimpse at Night Owl's ship, The Comedian's trip out the window, Rorschach taking care of some of his cop buddies (fire says I love you) and the final scene of life on Mars – stunning.

Oh, in case anyone is curious, the song in the trailer is 'The Beginning Is the End Is the Beginning' by Smashing Pumpkins. An '80s theme song might have been more appropriate but we won't nitpick.

Enjoy!
The Comedian : Bon Voyage!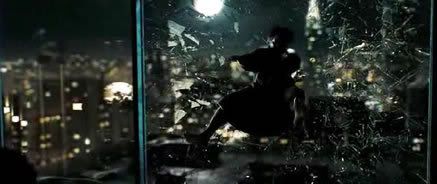 Doctor Manhattan: The Man who shouldn't Be.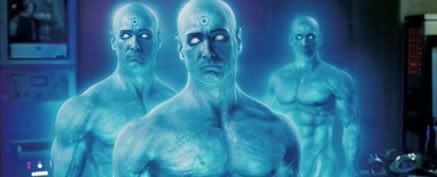 Rorschach – say it with fire….


Life On Mars?

Archie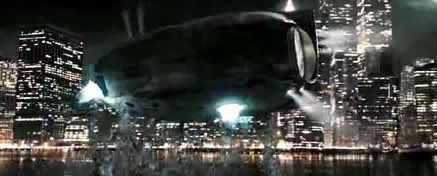 So are you excited for Watchmen?