Movies.ie guide to the Wonderful World of WALL*E
Finally! The trailer to end all trailers for this year's animation-must WALL*E has arrived. The original trailer, what some are now referring to as the 'International trailer', was pulled a few weeks ago but now the finished product is here and let me tell you, you're in for something special come June 27th!
For those of you who haven't heard of WALL*E it's the story of one robot (think 'Short-circuit' meets 'Batteries not Included') left alone on earth after the planet is abandoned. After hundreds of years alone, WALL*E develops his own distinct and curious personality. One day he discovers a new purpose in life (besides collecting knick-knacks) when he meets a sleek search robot named EVE. EVE comes to realize that WALL*E has inadvertently stumbled upon the key to the planet's future, and races back to space to report her findings to the humans (who have been eagerly awaiting word that it is safe to return home). Meanwhile, WALL*E chases EVE across the galaxy and sets into motion one of the most exciting and imaginative comedy adventures ever brought to the big screen.
You can watch the HD trailer here, but we're just so excited about it we couldn't resist doing a break down of what's to come. Enjoy!
COMEDY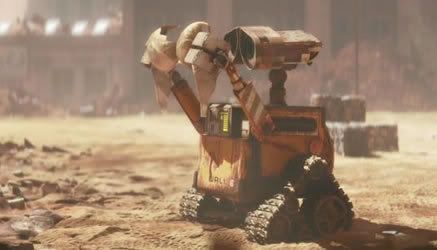 One thing everyone seems to be dwelling on is the lack of dialogue throughout the film. Now, initially, we would have agreed with you- how could an animated feature like this work? Well the trailer shows how! It seems to reveal that much of what is adorable about WALL*E is his innocence to the world around him. From his bra-bemusement (pictured above) to the typical fire extinugisher slap-stick, it looks like WALL*E works!
ROBO-LUV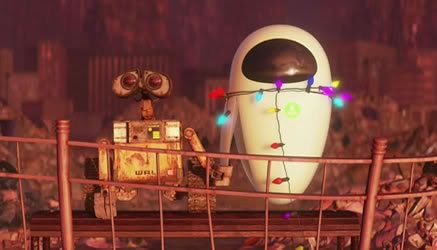 We get a closer look at EVE, WALL*E's futuristic love interest before she abruptly leaves (or is taken away?), it seems to be what spark's much of the adventure ahead…
SPACE AND BEYOND!
This latest trailer, more than any other, takes us beyond the garbage ridden world of Earth and shows us what lies across the galaxy. Many of Pixar's animations seem to have a tie in moral concern, it seems likely that pollution is at the forefront of the creator's mind when putting the WALL*E universe together.
HUMANS!!!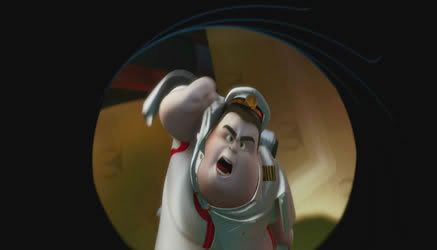 We get our first glimpse at humans of the 28th century and it seems like they are still dealing with weight issues! (damn you Gillian McKeith). The character pictured above is voiced by none other than Jeff Garlin, who some of you may remember from American comedy classics such as Curb your Enthusiasm and Arrested Development.
ROBOTS GALORE!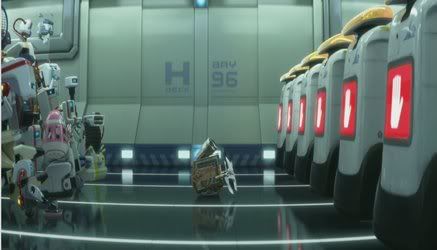 More than WALL*E and EVE, we get to see some of the other robots on offer- each more exciting than the last! Watch out for the hairdresser bot- she's our favourite.
So there you have it, your first look at what's new with WALL*E. This is a big step for Pixar; they've done land and sea and now they are venturing to space! The CGI is, as always, amazing and it seems they are really standing on their own two feeting- there is not one single mention of Toy Story in the trailer – do they feel WALL*E is that strong? Well we certain do!
WALL*E comes to Irish Cinemas Summer 2008.