"Vote Afghanistan!" tells the story of the gripping and controversial Afghan Presidential election of 2009. With unique access this political thriller observes the elections through the eyes of the leading challengers on their campaign trail, their supporters and the personal stories of the everyday Afghan voter. Across the country we meet the brave and heroic people literally risking their lives to challenge President Karzai and to make this a free and fair election. The film reveals a people hungry for democracy, engaged with the political process and dedicated to the future of their country.
It's five year's since the Matrix brothers have directed and now they're back and better than ever.
In their highly anticipated family feature (their first ever family film in fact), the boys are bringing the classic Japanese manga comic/cartoon 'Speed Racer' to the big screen with a star studded cast including Emile Hirsch, Susan Sarandon, Christina Ricci, Matthew Fox, Scott Porter, John Goodman and Richard Roundtree.
For those of you too young to remember Speed, it centres on a young driver Speed, played in the film by Emile Hirsch (Into the Wild), who competes in a series of death defying races in his faithful car the Mach 5. Speed, with the help of his family (with Susan Sarandon and John Goodman as Mom and Pops Racer) and his girlfriend Trixie (Christina Richie), battles various racing rivals, including the mysterious Racer X (Lost actor Matthew Fox).
The film, out May 9th, is from the visual affects team behind 'The Matrix' and its infamous bullet-time. In 'Speed Racer' they've managed to combine live action and CGI effects in a way never seen before.
In this new exclusive high definition clip, you get to check out some of the Wachowski Brothers' latest tricks. We've also highlighted a few stills for you, but for the full effect you really have to watch this trail- it's fast paced, fresh and a REV..olution in CGI. Check it out!
GO SPEED RACER, GO SPEED RACER!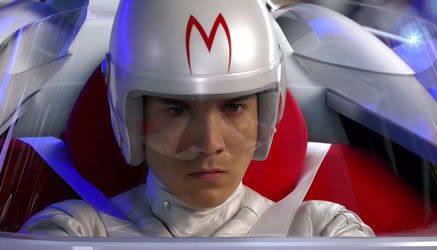 The determined face of Emile Hirsch, who'll play Speed in the upcoming movie.
MACH GOGOGO: THE CAR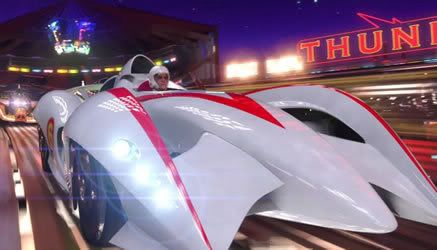 With 'Speed Racer', the cars are just as important as the actor and here are two images of Speed's trusty Mach 5. Slick and no doubt aerodynamic, we've included a stunning visual of the car in action below (oh the pretty colours!). The Mach 5 is, of course, designed to be driven, but in the film it was hung from a crane for the film's sequences and have its motoring effects computer-generated

RACER X
We get our first look at Speed Racers racing-rival, the mysterious Racer X. In what appears to be a gimp suit, it is in fact, Lost actor Matthew Fox, recently seen in the rashomon styled flick 'Vantage Point'.
Check out the trailer below, it's sure to get your heart racing!
Speed Racer hits Irish Cinemas May 9th.