We have a free screening and drinks reception lined up for new Irish movie Kisses on November 19th
'Kisses' is a stunning Irish movie that received international acclaim at film festivals around the world including the Locarno Film Festival, the Telluride Film Festival and the prestigious Toronto International Film Festival.
Want to see what all the fuss is about? You can attend our preview screening (with free drinks reception beforehand) on Wendesday November 19th.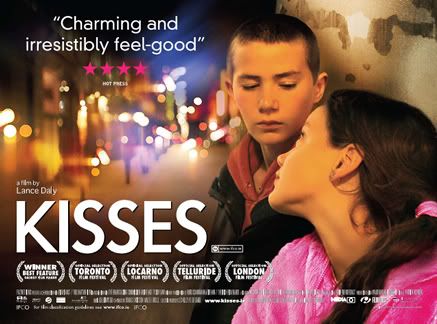 To win tickets to the Nov 19th screening and drinks reception for you and a friend,

simply check out question below then click here to submit your answer

Q: Who directs new Irish movie Kisses?
Clue : Read the movie summary below!
Please include your real name, your address,and be sure to your Movies.ie username!
Tickets will be allocated on a first come – first served basis. So get your entries in quick!

THIS COMPETITION IS NOW CLOSED!
WINNERS HAVE BEEN EMAILED WITH INFO ON THE SCREENING!
MORE SCREENINGS COMING SOON – STAY TUNED!


MOVIE SYNOPSIS
On the fringes of Dublin, Kylie and Dylan – two pre-teen kids – live in a suburban housing estate devoid of life, colour and the prospects of escape. Kylie lives with five other sisters, her overworked mother and in constant dread of her uncle's
unwelcome visits. Next door, Dylan lives in the shadow of an abusive alcoholic father and the memory of an elder brother who ran away from home two years previously.

After a violent altercation with his father, Dylan runs away from home and Kylie decides to join him. Together they make their way to the magical night time lights of inner city Dublin, to search for Dylan's brother, and in the hope of finding, through him, the possibility of a new life.

Lance Daly's vision of Dublin, as seen through the innocent eyes of our protagonists, is a kaleidoscope of magic, wonder and mystery. But as the night wears on, and Dublin takes on a darker character, the two kids have to rely on the kindness of strangers, the advice of Bob Dylan and their trust in each other to survive the night.
With two wonderful performances at the film's heart, Lance Daly's new feature is a sheer delight and is fastly becoming the darling of the international festival circuit.

Kisses will open to the general public on November 21st