Win tickets to the Irish premiere of BEVERLY HILLS CHIHUAHUA for you, a friend and a dog.
It's already licked the top spot at the American box office, and now Irish audiences have a chance to see the doggy sensation. The Irish premiere takes place in Movies @ Dundrum cinema next Sunday, January 11th at 1pm sharp. You can win tickets for you and a friend. Guests are invited to bring small dogs along to the screening for a special doggie treat.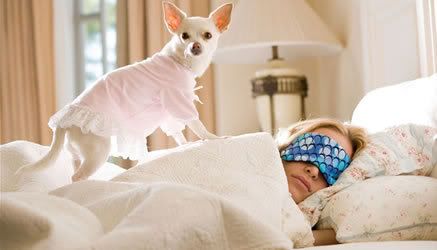 SYNOPSIS
In the Disney comedy, BEVERLY HILLS CHIHUAHUA, a pampered Beverly Hills Chihuahua named Chloe (voice of DREW BARRYMORE) finds herself accidentally lost in the mean streets of Mexico without a day spa or Rodeo Drive boutique anywhere in sight.
Now alone for the first time in her spoiled life, she must rely on some unexpected new friends – including a street-hardened German Shepherd named Delgado (voice of ANDY GARCIA) and an amorous pup named Papi (voice of GEORGE LOPEZ) – to lend her a paw and help her to find her inner strength on their incredible journey back home.Walt Disney Pictures presents BEVERLY HILLS CHIHUAHUA, directed by Raja Gosnell (Scooby Doo), written by Jeff Bushell and Analisa LaBianco and starring an all-star cast including Piper Perabo, Manolo Cardona and Jamie Lee Curtis with the voices of Andy Garcia, Plácido Domingo, George Lopez, Salma Hayek, Edward James Olmos, Paul Rodriguez, Cheech Marin and Drew Barrymore.
BEVERLY HILLS CHIHUAHUA opens in Irish Cinemas January 16th 2009
Cert: GEN Running Time: 91 mins

For More Info visit: http://www.beverlyhillschihuahua.ie/
HOW TO WIN TICKETS
To win a pair of tickets to this screening just answer the following question.
Q: Who provides the voice of Chloe in BEVERLY HILLS CHIHUAHUA? (clue – the answer is in the synopsis above)

Submit your answer by clicking here.
Don't forget to include your contact details.