Things are heating up for comic book adaptation with a first look at Megan Fox's character out today but what do you think of the first look "Jonah Hex"?
As many of you know, "Jonah Hex" is currently in Louisiana, with Josh Brolin as the title character, John Malkovich as an evil southern sharecropper who raises an army of dead confederate soldiers to destroy Hex and Megan Fox playing Leila, a former lady of the night (and no we don't mean vampire…)

Now the first images have emerged showing us what the director Jimmy Hayward has in mind for Megan Fox's character Leila, the gun-wielding love interest of the title character. Check it out: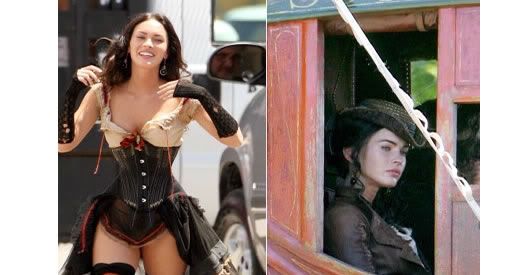 As you'd expect for a former prostitute
(and let's not forget this is Megan Fox), director Hayward has gone with the
"less is more" factor, something sure to appeal to the fanboys out there. But what do you think of Fox and the look of the film so far and fans of the comic, we want to hear from you – is this the Hex you know and love?
Created by writer John Albano and artist Tony DeZunigac, the DC Comic series revolves around a bounty hunter, brutally scarred
during the Civil War, who attempts to stop a Southern plantation owner
from raising an army of the undead. The film is expected in cinemas Summer 2010.