With Kevin Smith's Porno hitting cinemas this week, we look at the best mock pornos in feature films
Lifelong friends and roommates Zack (Rogen) and Miri (Banks) are facing hard times and a mountain of debt. When the electricity and plumbing get cut off, they seize upon the idea of making a home-grown porno movie for some quick cash, enlisting the help of their friends. The two vow that having sex will not ruin their friendship, but as filming begins, what started out as a business proposition between friends turns into something much more. In "Zack and Miri make a porno" – Kevin Smith not only brings us a classic Smithian comedy but "Star Whores" – Zack and Miri's (mock) porn debut. In honour of both films, we takes a look at some of the most infamous fake pornos from the big screen.
Porno: Logjammin' 
Seen In: The Big Lebowski
Tara Reid stars as the role of trophy wife and porn star in the Coen brothers hilarious stoner comedy, The Big Lebowski. This porno begins to answers questions we never even wanted to ask. What does Tara Reid look like in a porn film? What are the physical mechanics of efficient German lovemaking? Who would possibly want to see Carl Stormare naked? Either way, Julianne Moore's brilliant deadpan commentary make this porno one for the books.
Porno: Tommy and Lizzy's Untitled Sex Tape 
Seen In: Trainspotting
While millions of dollars have been spent on campaigns like JUST SAY NO, films like Requiem for a Dream and Trainspotting demonstrate that the best way to keep kids off drugs isn't to lecture them; it's to show them the horrifying consequences of a life spent indulging in mind-altering substances. But Trainspotting also brings with it a bonus message. Recall the character of Tommy, who at the beginning of the film had a pretty great life. Not only was he having regular sex with Lizzy, played by Pauline Lynch, but she was kinky enough that she allowed their lovemaking to be taped. That existence shattered into pieces when Renton (Ewan McGregor) and friends decided to take the tape switch it for a recording of a soccer match, leading Tommy to conclude he accidentally returned the sex tape to the video store. Naturally, Lizzy was pretty damn upset at the prospect of her unmentionables being splayed across countless screens, and broke up with Tommy shortly afterwards:
Porno: The Collected Works of Danielle
Seen In: The Girl Next Door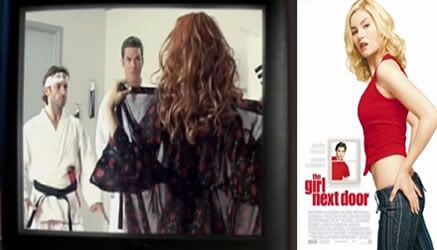 Although most people know Elisha Cuthbert as "That annoying chick who repeatedly ruins Jack Bauer's life," less of you might recall that she was actually pretty damn irresistable as a young porn star in "The Girl Next Door." Starring a young Emile Hirsch and a sleazy Timothy Olyphant, actually had its share of laughs and had a sweet message at its core. Hirsch's Matthew Kidman is a senior headed for Georgetown who has never done anything exciting with his life. So when a smoking hot, wild and crazy girl moves in next door, Matthew becomes completely infatuated with her. But when his friend shows him a tape of Danielle's latest gig, it upends Matthew's whole world. When Danielle learns of Matthew's discovery, she flees back to the comfortable world of adult entertainment. But Matthew, believing she's the best thing that ever happens to him, goes on a quest to win her back.
Porno: Orgazmo
Seen In: Orgazmo
Only from the twisted mind of Matt Stone and Trey Parker could this film originate, chronicling the story of a Mormon forced to star in a porn film to earn enough money so he could marry his sweetheart. Parker starred as Joe Young, who in turn played the titular character in porn films, wielding the Orgazmorator to deliver climactic pleasure to men, women, and occasionally even octogenarians. When his fiancée is kidnapped by the filmmakers in an effort to force Joe to do more films, Joe must use an actual real-life Orgazmorator to save his beloved and stop the evil pornographers once and for all.

Porno: Angels Live In My Town
As Seen In: Boogie Nights 
P.T. Anderson's audacious sophomore film still holds up to this day and is a certain must-watch for anyone who has lost faith that Mark Wahlberg can still act. The story of a young Johnny Wadd analogue who rises through the ranks to become one of the country's hottest porn stars had a fantastic ensemble cast and ran the complete gamut of emotions, by turns moving you and making you laugh with its quirky characterizations. Among the latter are the unstoppable duo of Chest Rockwell and Brock Landers, the personae that porn stars Dirk Diggler and Reed Rothchild adopt for themselves in a wildly successful series of action porn films.
Zack and Miri make a Porno is out now on Netflix