After a 30-year absence, Hammer film returns with 'The Wake Wood'. We take a look at the film and 10 classic Hammer horrors to sink your teeth into this Halloween.
Hurrah for Hammer! After a near 30-year absence from our screens, Hammer Films had begun work on its first full length feature (much to the delight of this false fang /flimsy nightie obsessed movie geek).
Known the world over as 'The Studio that Dripped Blood', Hammer remains the most successful British film production company ever, in terms of both output and box-office. And yes – while the studio's massive catalogue may incorporate all manner of genres – ghosts, ghouls, vamps and various otherworldly creatures remain their true cinematic gift from the studios early days right through to the '70s.
Now the 50 year old cult studio is rising from the dead – choosing to resurrect in Ireland no less – with Irish born director David Keating's "The Wake Wood". The film will centre on attempts by a vet and his pharmacist wife to bring their only daughter back to life after she is ravaged by a dog, using a pagan ritual (we're thinking Wicker Man meets Frankenstein).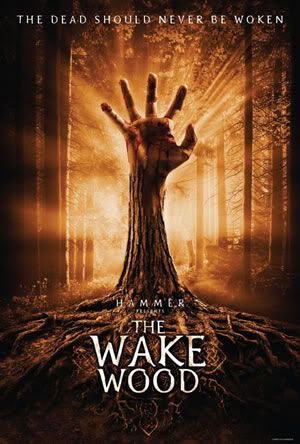 Filmed in various locations North and South of the border (mainly in Donegal), the set was closed to visitors however, community worker Natasha McGrath was involved with ensuring that it would be a case of lights camera, action with regards to welcoming the world famous company to Pettigo.
Speaking to the BBC, McGrath commented: "The film company approached ourselves back in April/May of this year looking for a suitable village location to shoot a full-length horror film. Of course, we did everything in our power to ensure that they would come to Pettigo."
Natasha added that Pettigo's suitability went beyond it being a picturesque village setting : "It would have its fair share of ghost stories, but of course how much you read into them is up to yourself," she said.
Whether or not the film will resurrects Hammer Films' fortunes, we'll have to wait and see. The film has a provisional Irish release date of autumn '09 however until then, here are ten classic hammer horror pics to sink your teeth into…
The Hammer Horror Top 10

1 Dracula (1958)
Fangs, gowns, nervy music and Christopher Lee's Count vs Peter Cushing's Van Helsing – so good that the British Film Institute has now restored it

2 Frankenstein Must Be Destroyed (1969)
Peter Cushing's mad Baron F seeks to prolong the life of a scientist by putting his brain into another body. The scientist's wife isn't best pleased

3 The Plague of the Zombies (1966)
Caribbean voodoo transferred to darkest 19th-century Cornwall

4 The Scars of Dracula (1970)
Jenny Hanley and a youthful Dennis Waterman with a never-heard-since posh accent are told at the inn that "strangers aren't welcome here", then find themselves locked in Castle Dracula

5 Blood from the Mummy's Tomb (1971)
In a titillating twist, the usual rotting-bandage monster is instead resurrected as negligée-sporting Valerie Leon

6 Frankenstein Created Woman (1967)
Baron F transplants the soul of a dead man into the body of a beautiful woman. No one stops to ask him why

7 The Gorgon (1964)
Old snake-hair shifts her activities from Ancient Greece to a 19th-century Transylvanian castle

8 Twins of Evil (1972)
The vampiric twins in question were blonde former Playboy centrefolds. The budget just stretched to twin white nighties

9 The Devil Rides Out (1968)
The film that most people found the scariest. Still packs a punch, though the special-effects giant spider hasn't worn well.

10 The Satanic Rites of Dracula (1973)
Set in modern-day London, this is the Life on Mars of the Hammers, complete with Ford Cortinas and Joanna Lumley. What could be better?