With The House Bunny currently packing out Irish cinemas, we take a look at other famous friends of Hugh Hefner.
This weekend saw the release of comedy The House Bunny starring Anna Faris as darling Shelley Darlington, a Playboy Bunny who teaches an awkward sorority about the opposite sex only to learn that what boys really like is what's on the inside. Shelley is living a carefree life until a rival gets her tossed out of the Playboy Mansion. With nowhere to go, fate delivers her to the sorority girls from Zeta Alpha Zeta. Unless they can sign a new pledge class, the seven socially clueless women will lose their house to the scheming girls of Phi Iota Mu. In order to accomplish their goal, they need Shelley to teach them the ways of makeup and men; at the same time, Shelley needs some of what the Zetas have a sense of individuality.
To
celebrate the release we have looked at the many famous faces that have
been part of the Playboy family through being a Playboy Bunny waitress
or posing for the magazine. Here are just a few names you might
recognise.
MARILYN MONROE:
Marilyn
was the very first model to pose for Hefner. That act was
groundbreaking for the time (1953) and America hadn't seen anything
like it since a certain Henry Ford took out his Model T for a drive.
The actress was very proud of her photographs and happily admitted that
it was indeed her in the pictures. When she first talked to the media
about her spread, it was reported that she answered the reporter`s
question, `What were you wearing?` with a witty, `Chanel No 5.`
LAUREN HUTTON:
One of the world's first supermodels, Hutton worked at the New York Playboy Club from 1963-1964.
DEBBIE HARRY:
The lead singer of the hit
'70's new wave punk group Blondie waitressed at the New York club from
1968-1973 before becoming a major pop icon.
CINDY CRAWFORD:
It was 1988 when the goddess came down from
the ramps to pose for Playboy. Cindy Crawford was the first supermodel
to pose for the magazine and the world was left speechless. That front
cover went into the shelves of history and suddenly Playboy was a
matter of interest beyond its traditional readership.
Crawford returned to the pages of Playboy a decade later (the 1998 issue) and posed for some very revealing photographs.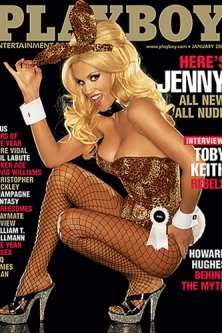 JENNY McCARTHY:
Jenny McCarthy was Playboy`s
1994 'Playmate of the Year'. She was a page-turner for many other
publications before Hugh Hefner pursued her with $300,000 deal. She has
gone down in history for being an activist and for hosting a number of
shows. Seen with Pamela Anderson in Scary Movie 3, McCarthy has also
had a career as a comedian.