To celebrate the release of The Love Guru, we look at ten fascinating Mike Myers trivia factoids.
Mike Myers has created some of the screen's most iconic characters, and now he hopes to add his guru Pitka as the latest character to take the world by storm.
In his first original movie since the beloved Austin Powers, Mike plays Pitka, an American who was left at the gates of an ashram in India as a child and raised by gurus. He then moves back to the U.S. to seek fame and fortune in the world of self-help and spirituality. Of course, his unorthodox methods are put to the test when he must settle a rift between Toronto Maple Leafs star hockey player Darren Roanoke (Romany Malco) and his estranged wife. After the split, Roanoke's wife starts dating L.A. Kings star Jacques Grande (Justin Timberlake) out of revenge, sending her husband into a major professional skid – to the horror of the teams' owner Jane Bullard (Jessica Alba) and Coach Cherkov (Verne Troyer). Pitka must return the couple to marital nirvana and get Roanoke back on his game so the team can break the 40-year-old "Bullard Curse" and win the Stanley Cup.

But what do you really know about the Mike Myers? Movies.ie look at ten fascinating facts about the International Man of Mystery.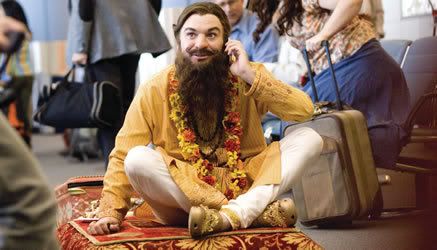 (1) After graduating high school in 1982, Myers was immediately accepted into Toronto's Second City Comedy ensemble.

(2) Myers collects model soldiers; he finds the building and painting of the soldiers to be relaxing.

(3) Fellow Saturday Night Live alumnus Chris Farley was originally the voice of Shrek in DreamWorks Animation's 2001 film, Shrek, and had recorded some of the dialogue up until his untimely death in 1997. DreamWorks then re-cast Mike Myers' vocal talents in the title role.

(4) In June 2000, Myers was sued by Universal Pictures for $3.8 million for backing out of his contract to play Dieter in a feature film version of his "Saturday Night Live" (1975) recurring skit, "Sprockets". Myers was quoted to say he would refuse to honour the $20 million contract rather than "cheating moviegoers with an unacceptable script".

(4) Mike came up with the character Wayne Campell from Wayne's World when he was at the age of eleven.

(5) His production company, Eric's Boy, is named after his father, Eric, an encyclopaedia salesman, who died on 22 November 1991 of Alzheimer's.

(6) He supports Liverpool Football Club – his parents were from Liverpool

(7) Has said his favourite character to play in the Austin Powers movies is Dr. Evil. His least favourite to play is Fat Bastard.

(8)Mike was nominated for Worst Actor at the Razzie awards 2004, for his performance in The Cat in the Hat (2003).
(9)Mike's salary for the Austin Powers movies are as follows: Austin Powers – $3,000,000. Austin Powers 2 – $7,000,000. Austin Powers 3 – £25,000,000.

(10) A 4th Austin Powers film is rumoured to be in the works; the project is said to focus on Dr. Evil.
See Myers in 'The Love Guru' – in Irish cinemas August 1st.