When he finds himself a father at the age of 14, Robbie is quickly catapulted into adulthood.
Roll Up – Roll Up!
Movies.ie has some great prizes for Hannah Montana – including 5 Nintendo DS games and cinema tickets to see the movie.

To win a Nintendo game plus tickets just email Hannah@Movies.ie and answer the following question.
Q: Who plays the part of Hannah Montana?
Hannah Montana opens this Friday in Ireland, it's already a huge success in America, where it has broken all sorts of box office records. So far, it is the biggest 3-D opening ever, beating 'Beowulf' and 'U2-3D' with a screen averge of $42,000 on 683 screens. It's also beaten Borat to become the highest opening for a film playing on fewer than 1000 screens and most impressively, it's beaten Titanic to become the biggest opening of any film playing over the Super Bowl weekend.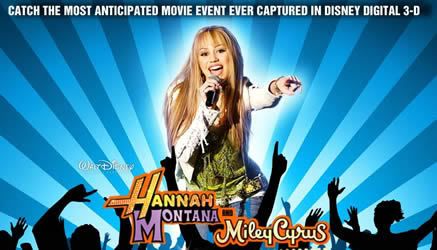 Hannah Montana is a movie spin off from the Emmy Award-nominated TV show about Miley Steward (played by Miley Cyrus), a girl who lives a double life as an average teenage school girl by day and a famous pop singer named Hannah Montana at night, concealing her real identity from the public, other than her close friends and family.
The show resulted in a sold-out U.S. tour, which was filmed entirely in 3D for the big screen. Shot during her 69-city, standing-room-only tour, the film brings a whole new dimension to the pop idol, as state-of-the-art 3-D captures up close, and with stunning clarity, the music, persona and inside world of both Miley Cyrus and her rocking alter ego, Hannah Montana.
With rapidly rising stars, Jonas Brothers, as her special guests and a stage filled with dancers, pyrotechnics and video imagery, 'Hannah Montana & Miley Cyrus: Best of both Worlds Concert' showcases the exuberant magnetism that has led the 15- year-old singer and actress to become a multimedia sensation and attracted legions of fans all over the world. In addition to its viscerally real concert footage, the film includes a "backstage pass" peek at Miley's life on tour.

We've included the Hannah Montana trailer below – just click play to view it.
'HANNAH MONTANA & MILEY CYRUS: BEST OF BOTH WORLDS CONCERT in 3D' opens this Friday in selected cinemas nationwide.
Now including Cineworld (Dublin); Movies@Dundrum; Movies@Swords; IMC Dun Laoghaire; SGC Dungarvan; Omniplex Mahon Cork; The Gate (Cork)"