The Dark Knight approaches and to celebrate we have new Batman content every day this week!
After months of anticipation, the biggest movie of the year is finally here! There are just four days to go until THE DARK KNIGHT previews in Irish cinemas.
Of course for you lucky people who won passes to the exclusive Movies.ie Advance Screening, you'll be seeing the Batman, the Joker and Harvey Dent before anyone else in the whole country. To celebrate the movies release this week on Movies.ie it's BATWEEK.
As part of BATWEEK, we will be
bringing you exclusive content every day to tie in with the Caped Crusader, Including…
1/ Our
guide to the best Batman comics.
2/ A review of 'The Gotham Knight' DVD.
3/ A guide to the science behind Batman – how easy is it to become Batman for real?
4/ A look back at the Dark Knight viral
campaign.
5/ An interview with The Dark Knight himself – Christian
Bale.
PLUS
6/ Tomorrow we bring you news of our Dark Knight competition!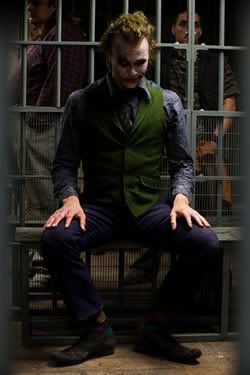 MOVIE SYNOPSIS
With the help of Lieutenant Jim Gordon and District Attorney Harvey Dent, Batman sets out to destroy organized crime in Gotham for good. The triumvirate proves to be effective, but they soon find themselves prey to a rising criminal mastermind known as the Joker, who thrusts Gotham into anarchy and forces the Dark Knight ever closer to crossing the fine line between hero and vigilante.

Over the past few weeks we've been bringing you news and features in the build up to this weeks release of The Dark Knight.
SOME OF OUR RECENT BATMAN COVERAGE INCLUDES:
Michael Caine talking Heath Ledger's Joker,
The First Dark Knight TV Spot,
Bale: 'The Joker didn't kill Ledger',
New Extended 'Dark Knight' Trailer,
Bale rejects Robin for Batman 3,
Potter Teaser for 'Dark Knight',
Goyer Rules Out Penguin, Catwoman,
Dark Knight eyes box office record,
Take Back Gotham City With Harvey Dent!,
'Batman Gotham Knight' teaser revealed,
Also, the USER FORUMS on Movies.ie have been a buzz with Dark Knight coverage also: Some of the more interesting conversation topics include…
The Dark Knight – merchandise,
The Dark Knight
– HBO first look,
Chris Nolan apologizes for Dark Knight being rubbish,
The Dark Knight – ask Christian Bale a
question,
Batman: Gotham
Knights viewing,
You can discuss more Dark Knight topics in the Movies.ie forums here
The Dark Knight opens at cinemas around Ireland this week, check Movies.ie for your local cinema times.