The first of our 2009 previews, covering this years films from 'Angels and Demons' to 'Duplicity'
A new year, a brand new bunch of movies and Movies.ie pledges to bring the latest news and features for the best movies coming up on the silver screen. To kick start the new year we're taking a look at the most anticipated releases of 2009.

Every day we'll bring you an alphabetical guide of the most exciting movies, starting today with A-D.
Many release dates may change over the coming months and some movies are still so top secret that information on them is scarce, keep an eye on Movies.ie every day for all the latest release information.
ANGELS & DEMONS
May 09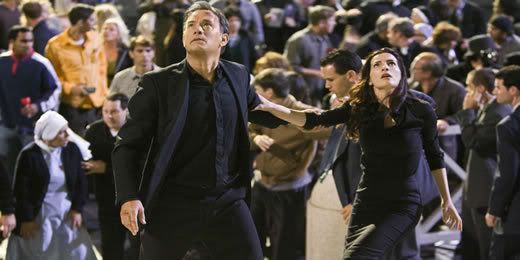 Long delayed with last years writers strike – fans of coffee-table novel " The Da Vinci Code" finally get their chance to see Ron Howard's version of the highly anticipated sequel "Angels & Demons". Tom Hanks returns as the religious aficionado Robert Langdon, who once again finds that forces with ancient roots are willing to stop at nothing to advance their goals… When Langdon discovers evidence of the resurgence of an ancient secret brotherhood known as the Illuminati – the most powerful underground organization in history – he also faces a deadly threat to the existence of the secret organization's most despised enemy: the Catholic Church. When Langdon learns that the clock is ticking on an unstoppable Illuminati time bomb, he jets to Rome, where he joins forces with Vittoria Vetra, a beautiful and enigmatic Italian scientist. Embarking on a nonstop, action-packed hunt through sealed crypts, dangerous catacombs, deserted cathedrals, and even to the heart of the most secretive vault on earth, Langdon and Vetra will follow a 400-year-old trail of ancient symbols that mark the Vatican's only hope for survival.
ARMOURED
October 09
A crew of officers at an armoured transport security firm risk their lives when they embark on the ultimate heist… against their own company. Armed with a seemingly foolproof plan, the men plan on making off with a fortune with harm to none. But when an unexpected witness interferes, the plan quickly unravels and all bets are off.
AVATAR
Dec 09
From the man who gave us Kate and Leo, Icebergs and "Jack, I'm flying!" comes CG animated flick "Avatar". Yes, the Oscar winning director James Cameron is finally returning to the big screen with a film that promises to be epic. Having delivered the biggest box office success to date with "Titanic", Cameron has taken his time with "Avatar" – a total of twelve whopping years in the making. So far much of the film remains under wraps but what we do know is that the story centres on a wounded ex-marine, thrust unwillingly into an effort to settle and exploit an exotic planet rich in bio-diversity, who eventually crosses over to lead the indigenous race in a battle for survival.

THE CURIOUS CASE OF BENJAMIN BUTTON
February 2009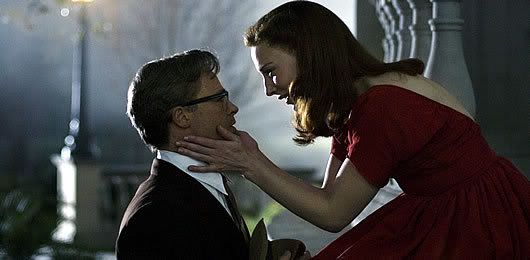 Benjamin Button (Brad Pitt) was a boy born with the biology of a OAP but as he grows up, he grows younger and soon he finds himself in love with Daisy (played by the ever-lovely Cate Blanchett). Can their romance survive Benjamin Button's curious condition? Based on a story by F Scott Fitzgerald, this David Fincher flick has been receiving rave reviews since it opened Stateside and has already picked up an Golden Globe nomination for Best Drama. We await the Oscars!

THE BOAT THE ROCKED
May 09

Richard Curtis is setting sail to the swinging' sixties in his first non-romantic comedy flick "The Boat That Rocked". With an all-star cast, including Philip Seymour Hoffman, Bill Nighy and Nick Frost (supporting some rather fetching mutton chops!), the film tells the story of a group of pirate radio station DJs broadcasting rock and pop to the UK from ships anchored in the North Sea, outside of any national jurisdiction, thus exploiting a loophole in the law. We follow the men and women at the forefront of the UK pirate radio movement, putting them at odds with a traditionalist British government which prefers to broadcast jazz.

BOLT
Feb 09

Walt Disney animation's first foray into 3D 'toon making isn't just a technical triumph, it thankfully also tells the clever story of Bolt (John Travolta). He's a superstar TV canine who believes the superpowers he displays weekly on his series are for real –especially when it comes to the protection of his master and co-star Penny (Miley Cyrus). One day, however, the dog is accidentally shipped from his Hollywood soundstage to New York City. Lost, alone and confused on the streets of the Big Apple, Bolt is still living the show, vowing to get to Penny who he believes has been kidnapped by the "green-eyed man." And so he embarks on a cross-country journey to L.A. to save Penny. Along the way he is joined by an abandoned, wily housecat Mittens and a TV-loving hamster, Rhino (Mark Walton), who believes everything he sees on the tube is ALSO real. Of course, Bolt is in for rude awakening when he finds out he is just a regular dog, but he still needs to get to Penny — even if it means she might not be there for him when he returns. All decked out in awesome 3D animation, Bolt is hilarious and action-packed, the perfect family movie for 2009.

BRUNO
May 09
From the outrageous mind of Sacha Baron Cohen comes the outrageously camp fashion reporter Bruno – who in typical style sets out to take on the fashion world, Middle America and the gays. Expected in Irish cinemas this summer, early reports suggest Baron Cohen has pulled out all the stops for his latest mockumentary including gate-crashing a Milan fashion show and selling tickets a supposed "Redneck Rumble" – promising $1 beer and nearly naked women and delivering (to a rare shocked audience) Bruno and another male actor stripping down and kissing each other. Expect cringeworthy entertainment.

CLOUDY WITH A CHANCE OF MEATBALLS
September 09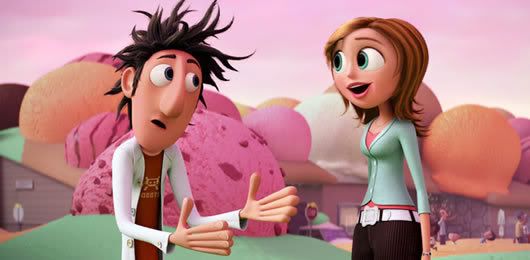 Inspired by the beloved children's book, "Cloudy with a Chance of Meatballs" focuses on a town where food falls from the sky like rain. Andy Samberg and Anna Faris will voice the two lead characters, with James Caan, Bruce Campbell, Mr. T, and "30 Rock"'s Tracy Morgan also on the voice cast. Co-writers and co-directors Philip Lord and Chris Miller have also added that it will be a homage to and parody of disaster movies such as Twister, Armageddon, Independence Day, and The Day After Tomorrow.

A CHRISTMAS CAROL
November 09
For the holiday season '09, expect your heart to be warmed by none other than Robert Zemeckis and Jim Carrey in a classic revisit to Charles Dickens' 1843 story "A Christmas Carol". Carrey will be starring in a multitude of roles, including Ebenezer Scrooge as a young, middle-aged, and old man, and the three ghosts who haunt Scrooge. The 3D film will be produced through the process of performance capture, a technique Zemeckis has previously used in his films The Polar Express (2004) and Beowulf.
CIRQUE DU FREAK
October 09
With "Twilight" and "True Blood" injecting new blood into the vampire subgenre in 2008, 2009 promises more blood boiling antics from those fanged fiends. Based on the first three books of the book series, The Saga of Darren Shan, by author Darren Shan the film follows the newly undead 14-year-old boy Darren (Chris Kelly) who is drawn into a travelling freak show of vampires, werewolves and bearded ladies.

CORALINE
May 09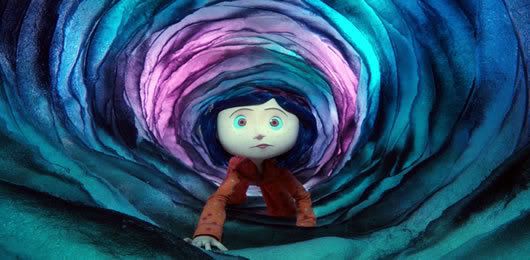 The latest pic from author Neil "godlike genius" Gaiman and stop-motion direct Henry "godlike genius" Selick, so you just know we're excited about"Coraline" This animated stop-motion horror fantasy film follows the titular character Coraline (Dakota Fanning), who unlocks a mysterious door in her new home and enters into a parallel reality, a fantastical and thrilling imitation of her own dull life. In this world, Coraline finds a new version of her real mother (Teri Hatcher) and father (John Hodgman), her off-kilter neighbors, Miss Forcible (Jennifer Saunders), Miss Spink (Dawn French) and Mr Bobinski (Ian MacShane), and the Cat (Keith David). However, this other world soon begins to unravel and she becomes a prisoner to her Other Mother and must count on her resourcefulness, determination, and bravery to get back home.

DORIAN GRAY
Nov 09
Narnia
3 might be off, but nevermind Ben Barnes, there's always another
classic novel to fall back on with the former Prince Caspian stepping
into the role of Oscar Wilde's Dorian Gray: When a strikingly
beautiful but naïve young Dorian (enter Ben ) arrives in Victorian
London he is swept into a social whirlwind by the charismatic Henry
Wotton (Colin Firth), who introduces Dorian to the hedonistic pleasures
of the city. Henry's friend, society artist Basil Hallward (Ben
Chaplin) paints a portrait of Dorian to capture the full power of his
youthful beauty and when it's unveiled Dorian makes a flippant pledge:
he would give anything to stay as he is in the picture – even his
soul…
DUPLICITY
March 09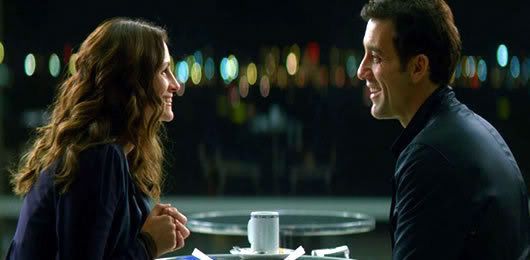 CIA officer Claire Stenwick (Roberts) and MI6 agent Ray Koval (Owen) have left the world of government intelligence to cash in on the highly profitable cold war raging between two rival multinational corporations. But as the stakes rise, the mystery deepens and the tactics get dirtier, the trickiest secret for Claire and Ray is their growing attraction.
Tomorrow we'll look at movies E – H.